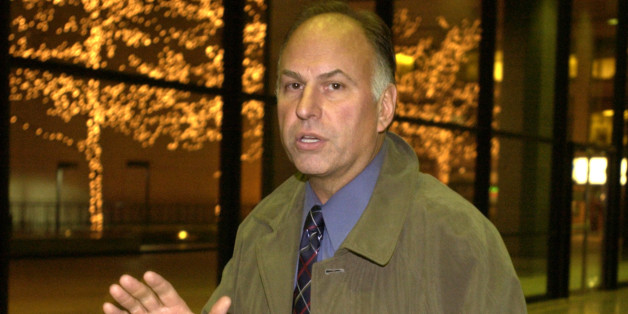 The trial for a former Chicago police officer who allegedly planned to kidnap, torture and kill a man got off to a bizarre start Tuesday and Wednesday with dramatic testimony and recordings of lurid conversations.
In October 2012, Steven Mandell (formerly Steve Manning) allegedly planned to disguise himself and former Willow Springs, Ill. officer Gary Engel as federal marshals before arresting their victim, Steve Campbell, and taking him to a "killing chamber" he'd helped build inside a storefront on the city's Northwest Side. There, they allegedly planned to torture him into handing over real estate and money before they killed him.
Mandell, 62, referred to the killing chamber as "Club Med" in recordings played in court Wednesday, WGN reports. The recordings had been taken by George Michael, who worked as an FBI informant for five months.
"This place would make Stalin proud!" Michael told Mandell of the chamber in an audio recording played in court Wednesday, the Chicago Sun-Times reports.
According to the Chicago Tribune's Jason Meisner, who was tweeting from the trial Wednesday, Mandell was heard on FBI video making "moaning sounds" describing his planned torture of Campbell, a.k.a. "Soupy," and "bathroom noises" of Soupy "defecating on himself" in another taped conversation played in court.
Earlier, on Tuesday, Mandell's defense attorney, Keith Spielfogel, told the court his client did not plan to follow through on the bizarre statements he is heard saying in the FBI recordings. Arguments to the contrary, he claimed, are "absurd," ABC Chicago reported.
"He was talking and talking but there was no way on this earth this was going to happen. And it was absurd and ridiculous. It was never going to happen," Spielfogel said Monday, according to ABC.
In a separate extortion plot, Mandell allegedly planned to kill the owner of a mob-connected strip club called Polekatz in Bridgeport in 2012.
Previously, Mandell, who NBC Chicago reports remains a suspect in at least a half-dozen murders through the years, served 13 years on death row for the kidnap and murder of a truck company boss in 1990 but was released in 1998 when his case was overturned on appeal. Engel, Mandell's alleged accomplice in the "Soupy" extortion plot, was found hanged in his prison cell shortly after the two men were arrested in 2012.