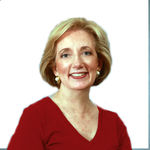 Follow the conversation on Twitter and share a photo of yourself wearing red #RedSelfie.
As a cardiologist, if there's a message I could share with every woman during this American Heart Month, it would be to "start taking action on your own behalf right now."
I believe that many women underestimate the power they have to positively impact their personal cardiovascular health. Too many women remain unaware that by taking simple, everyday steps, they can substantially reduce their risk of developing heart disease. And there's a lot at stake, because heart disease is by far women's most deadly and most prevalent illness. It causes more deaths among women than all causes of cancer combined, and one in three women will develop it during their lifetime.
That's why I want women to know there's not a moment to lose, and a great deal to be gained by becoming their own leading health advocates. A proactive attitude is the key to making this happen. As women, we need to have the will to take action, because no one else is going to do it for us.
The scientific literature is replete with studies documenting the enormous benefits of healthy daily lifestyles. For example, in a landmark report by researchers at the Harvard School of Public Health, women who maintained a healthy diet, weren't overweight, did not smoke, and exercised regularly, had an incidence of coronary events that was more than 80 percent lower than that in the rest of the population. Numbers like these offer irrefutable proof that women's leading health threat is, in fact, highly preventable.
These same healthy lifestyles are emphasized in the American Heart Association's "Effectiveness-Based Guidelines for the Prevention of Cardiovascular Disease in Women." In addition, the association's guidelines emphasize the importance of regular visits to the doctor to assess cardiovascular risk and determine the necessary steps to control risk factors like hypertension, high cholesterol and elevated blood sugar levels.
Over the past 15 years, we've seen a steady and encouraging increase in women"s awareness of heart disease and the importance of risk factor control. However, despite the overall trend, closer analysis reveals awareness discrepancies among women in some racial and ethnic groups and also among different age groups. We have to close these gaps. In a nation that becomes more diverse every day, we must do a better job of reaching ALL women with these simple and practical recommendations that can make a lifesaving difference.
In my practice, I see patients every day who are facing the consequences of heart disease. For many of them, heart disease could have been stopped in its tracks had they acted sooner. But the message of prevention arrived too late. Today, they would give anything for the chance to turn back the clock and take decisive action. That's why I hope every woman who reads this column will stop right now and give serious consideration to your own heart health. Sure, go ahead, and continue your efforts to prevent cardiovascular disease in your spouse, or children or even in your parents. But, let the effort begin with you! Begin each new day as a golden opportunity to build a healthier future.
This post is part of a series produced by The Huffington Post and the American Heart Association in recognition of National Wear Red Day (Feb. 7, 2014), the aim of which is to raise awareness that heart disease is the No. 1 killer of women. To read all the stories in the series, click here. And to follow the conversation on Twitter -- and share a picture of yourself wearing red -- find the hashtag #RedSelfie.