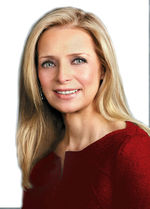 Follow the conversation on Twitter and share a photo of yourself wearing red #RedSelfie.
I have spent the majority of my adult life in retail and fashion. I have truly felt fortunate to be in the business of helping people look and feel good and of making their houses into homes. On my journey, I have been mentored by strong women, and I have worked alongside them, as women comprise 70 percent of Macy's employee population. And in my personal life, I have been blessed with an amazing mother who is also my best friend, an incredible sister, and eight beautiful and very special nieces.
For women, what I'm about to say next won't likely come as a shock: we need to do more to take care of our own health, especially our heart health. Let me take you back to the moment when this became clearer to me -- and to the progress of a decade spent toward the mission of reducing the occurrence of heart disease in women.
It was in 2003 when I found myself around a table in midtown Manhattan with a few inspiring women from the American Heart Association. They were talking with urgency and intensity about the fact that heart disease is the number one killer of women, taking more women's lives than all types of cancer combined. I was personally stunned by this news. It was definitely not popular knowledge. We all agreed -- more needed to be done to raise awareness, to get this message out to women across America, and to help them understand how preventable heart disease can be with some basic attention to their health.
The importance of this cause was crystalized even further for me as I encountered a scare with my own mother. She had retired and was enjoying her life - spending time with her grandchildren and doing what she loved to do which included dancing, shopping, and visiting Florida. Like so many women, she was not very good at taking care of herself when she was younger, as she had five children, five grandchildren, a career and caretaking responsibilities for a very sick father. All of that was more important than her own health. Now later in her life, my sister and I constantly reminded her to start taking care of herself so that she could really enjoy her years in retirement and watch her grandchildren grow.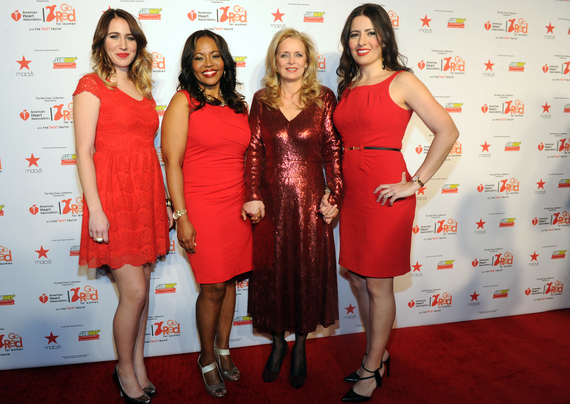 Macy's dresses by Calvin Klein, Kensie and XOXO worn by heart disease survivors at Go Red For Women / The Heart Truth Red Dress Collection 2014 Show presented by Macy's and SUBWAY Restaurants.
During her normal annual check-up she confided to her doctor that she did have some trouble breathing at times and would tend to get very winded. Heart disease was not part of our family history, so it never occurred to her that it was a heart issue. That same day he immediately ordered a stress test for her and found that she had a 90 percent blockage in the main artery of her heart. Without hesitation, he performed a procedure the next day and inserted a stent in the artery which prevented her from having a massive heart attack. I was never so grateful to a doctor as he gave my mother these past 10 years to enjoy her family, and quite honestly for me to continue to have my best friend in my life.
So with evidence -- both scientific and personal - that there was a profound need to raise the consciousness to this issue for women, it was across that midtown Manhattan table with a small group of motivated women that a movement was born. One year later, Macy's was a founding sponsor of Go Red For Women -- a platform that would use the iconic power of the color red, and the influential stage of the fashion industry to educate women more thoughtfully and thoroughly than ever before about their risk of heart disease and the simple steps toward prevention.
As I look back more than a decade later, I am profoundly grateful for that breakthrough moment that gave this important movement its legs, and I am deeply proud of the leadership position Macy's has taken in the fight against heart disease in women. In fact, Macy's efforts alone have helped raise more than $46 million for the cause. Thanks to Nancy Brown, Chief Executive Officer, and her passionate team at the American Heart Association, along with other important corporate sponsors and organizations fighting this killer, we can proudly say that our mighty coalition in its first 10 years has helped to raise awareness and fund research that has contributed to saving 627,000 women's lives since 2004!
Great progress has surely been made, but there is still much more to do. As we commemorate the 50th American Heart Month this February, and as we celebrate National Wear Red Day today, we should continue to remind our mothers, sisters, friends and coworkers that nearly 1,100 women still die each day in the United States from heart disease. We should challenge them to spend the same time understanding their heart health as they do picking out a new pair of shoes or finding the perfect pair of jeans (we appreciate how hard this really is!). It's easy to know your numbers -- and from there you and your doctor can make a plan to keep your heart healthy.
I hope in reading this you will feel inspired to spread the word...and to wear your most fabulous red dress, heels or even lipstick for today's National Wear Red Day and throughout the month of February ... in a show of support and solidarity with your sisters. In fact, we're so committed to encouraging everyone in America to wear red, that if you wear red in our stores now through Feb. 10, you'll receive a special savings...our way of thanking you for joining us in support of this important cause. You can also purchase a red dress pin from Macy"s for two dollars, and we'll donate 100 percent to Go Red For Women plus give you the special savings. Last year our sale of red dress pins raised $3.2 million for Go Red! We will even have a special collection of three red dresses available this February from Calvin Klein, Kensie and XOXO that benefit the cause.
As a woman who has spent her career in the world of fashion, I hope you'll take it to heart when I say there is no better accessory and no stronger fashion statement than good health. Seize this opportunity to be a part of the movement that is making a real difference for women's hearts. Go Red proudly this February.
This post is part of a series produced by The Huffington Post and the American Heart Association in recognition of National Wear Red Day (Feb. 7, 2014), the aim of which is to raise awareness that heart disease is the No. 1 killer of women. To read all the stories in the series, click here. And to follow the conversation on Twitter -- and share a picture of yourself wearing red -- find the hashtag #RedSelfie.