Reporters covering the 2014 Olympics in Sochi are quickly learning when it comes to the hotels think warm thoughts, mind the bees and have a very Putin evening.
One Chicago Tribune reporter learned another helpful tip: Don't allow the water anywhere near your face.
Reporter Stacy St. Clair tweeted Monday night she arrived to find her hotel had no water -- which, according to the front desk, was probably for the best:
My hotel has no water. If restored, the front desk says, "do not use on your face because it contains something very dangerous." #Sochi2014

— Stacy St. Clair (@StacyStClair) February 4, 2014
Just how bad was it? St. Clair tweeted an unfiltered look at the water (if you can call it that) and noted, "I now know what very dangerous face water looks like:"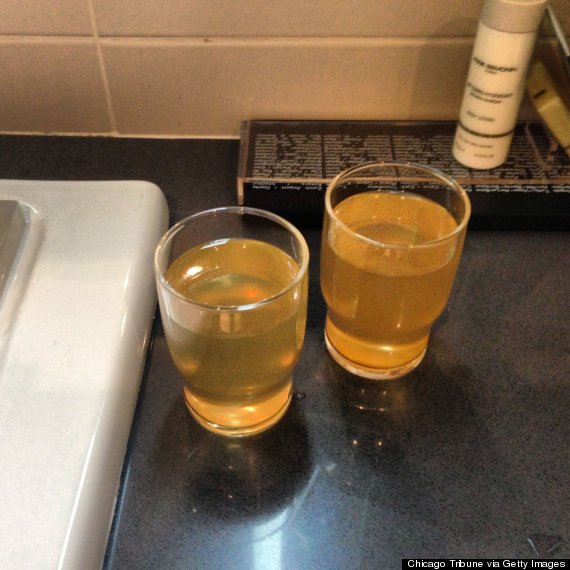 St. Clair's Monday night tweet soon went viral, kicking off a stream of more hilarious (and sometimes grim) updates from other journalists describing the conditions at Sochi's hotels.
The precarious state of Sochi's infrastructure was well-known to locals before the games came to town while Russian President Vladimir Putin and the Russian Olympic committee have drawn criticism for spending lavishly on the Olympics while contributing to an already unstable environmental situation.
As the New York Times also noted, "for the first time in history, the Olympics are being held on the edge of a war zone."
The International Olympic Committee has been sweating the hotel situation, urging Russian Olympic organizers to remedy the litany of problems. The Associated Press reported that as of Sunday, only six of the nine media hotels in the area were fully operational.
St. Clair, who tweeted that she was eventually moved to another hotel, did find a silver lining to the whole situation:
Also on the bright side: I just washed my face with Evian, like I'm a Kardashian or something.

— Stacy St. Clair (@StacyStClair) February 4, 2014