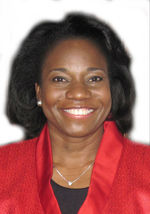 Follow the conversation on Twitter and share a photo of yourself wearing red #RedSelfie.
In the past decade, significant progress has been made in the war on heart disease in women, and we have seen about a 30 percent decrease in the number of women dying from heart disease. Since the call to action to focus research on the gender specific aspects of heart disease in 1992 at the first National Heart, Lung, and Blood Institute (NHLBI) Conference on Cardiovascular Health and Disease in Women, several research studies have added to our knowledge with resultant publication of the first American Heart Association Cardiovascular disease prevention guidelines in 1999, followed by updates in 2004, 2007 and 2011.
National data showed that only one in three women correctly identified heart disease as their leading cause of death. Recognizing that women were not aware that heart disease was their leading killer and, more importantly, that 80 percent of heart disease was preventable, the AHA knew something had to be done. In 2004, the AHA launched its Go Red For Women movement, a national campaign to raise awareness and to educate the public about the perils of heart disease in women.
Many lessons have been learned over the past decade. We know that heart disease is an equal opportunity killer and that all women across their lifespan are at risk. Research trials have revealed that there are gender differences in the presentation, symptoms, diagnosis and treatment strategies for heart disease. We have learned that while men and women share similar modifiable risk factors for heart disease (smoking, elevated cholesterol, diabetes, sedentary lifestyle, high blood pressure, obesity), the risk factors of diabetes, sedentary lifestyle and obesity are more potent in women and that certain unique risk factors, such as early onset of menopause before age 50; inflammatory diseases, such as lupus and rheumatoid arthritis; and complications of pregnancy, such as pre-eclampsia, gestational diabetes and birth of a preterm infant are associated with an increased incidence of heart disease. The emerging gender specific research demonstrate that women who maintain a heart healthy diet (e.g., high in fruits, vegetables, fatty fish, low in salt , sugar and saturated fats), abstain from smoking and are physically active have an 80 percent lower rate of heart disease events when compared to the overall female population. With the increased application and integration of gender-specific preventative and treatment strategies into daily medical care and use of evidence-based guidelines, we have seen a decline in death from heart disease. Since 2000, heart disease deaths among women have decreased even more abruptly than for men.
What is the state of women's heart health and where are we in the battle against heart disease in women in 2014? What are the challenges ahead and what needs to be implemented to eliminate heart disease as a threat to all women and continue the decrease in women dying from heart disease?
The AHA/CDC 2014 heart disease and stroke statistics demonstrate over a 30 percent decrease in women dying from heart disease since 2000. In spite of this decline, heart disease remains the leading cause of death of women in the U.S. So are women aware that they are vulnerable to heart disease? A look at the results from the very successful 10 years of the AHA's Go Red For Women movement, which has the goal of increasing heart disease awareness among women, demonstrate that women who join the Go Red movement are getting the message. Women who have joined Go Red For Women movement have been empowered to make changes on the journey to heart health and wellness. The results demonstrate that six in 10 have modified their diet to eat more "heart healthy foods," more than 50 percent exercise more frequently, more than 40 percent have checked their cholesterol, and one-third have talked to their doctor about their risk for heart disease. During our first 10 years, women have been fighting heart disease individually and together with Go Red For Women, and more than 627,000 women's lives have been saved, and 330 fewer women are dying per day. But the fight is far from over.
Yet, in 2014, heart disease is still our No. 1 killer -- it affects more women than men and is deadlier than all forms of cancer combined. So are all women getting the message that heart disease can be prevented and that they are vulnerable? A look at the most recent AHA awareness survey, in the 2013 publication by Mosca and colleagues, shows that awareness of heart disease among women has improved in the past 15 years, but a significant racial/ethnic minority gap persists. Between 1997 and 2012, awareness of heart disease as the leading cause of death in women has essentially doubled but remains far from ideal. In spite of the overall increase in awareness from 30 percent in 1997 to 56 percent in the 2012 survey, still collectively almost half of U.S. women currently fail to recognize heart disease as their major health problem and fail to partner with their health care professionals to adopt heart-healthy lifestyles. In addition, the 2012 survey reveals that disparities exist in awareness of heart disease as the leading killer of women with only 36 percent of black and 34 percent of Hispanic women vs. 65 percent of white recognizing the threat of heart disease. The numbers for black and Latino women are similar to that of white women in 1997 (33 percent). Additionally, many of the gains made in advancing the prevention of heart disease in women are in jeopardy of being reversed as we look at the increase in the death rate for younger women ages 35-54 and the growing epidemic of obesity, hypertension, diabetes and sedentary lifestyle among U.S. women.
Therefore, I believe that a model which empowers women to personalize and translate the awareness and knowledge about heart disease into heart healthy living is essential at this time and needed to move the needle for women to have sustainable heart healthy living.
For this to occur, I believe that the medical community, societies and organizations committed to improving the heart health of women must change the narrative to focus on heart health and wellness and away from a discussion on heart disease. I propose a "woman-centered" holistic approach to heart health and wellness that aligns with the general principles of holistic health whereby wellness is viewed as an ongoing process along a continuum, fostering a lifestyle and personal commitment to for health and wellness. Customized for heart healthy living, a woman-centered health and wellness approach will highlight heart healthy lifestyle choices combined with risk factor modification and treatment as needed customized for the unique physical, mental and social wellbeing of individual women. In this model, physical health can be communicated as an important contributor to heart health, and a way to maintain overall health and fitness. Physical health can be expanded to include simple daily activities of walking, jogging, heart healthy food choices and portion control and ensuring enough sleep, as essential components of overall heart health and wellness of a woman. A contemporary view of mental health, whereby methods to control stress and finding time to relax and engage in activities that foster joy and laughter promote heart health and wellness.
A woman-centered holistic approach to heart health, promotes the focus on heart wellness as an active process of becoming aware of and making choices toward a healthy and fulfilling life free of heart disease. The incorporation of heart health-literate messages customized to include women's cultural and religious beliefs to heart health and overall quality of life and wellness is essential to promote the elimination of health care disparities in heart health and particularly important for African-American and Latino women who are at high risk for heart disease.
If we are to achieve the AHA's 2020 goals of decreasing the number of all Americans, including all women, with heart disease by 20 percent, a strategy that focuses on heart health and wellness and fosters the translation of knowledge into sustainable heart healthy living is essential.
This post is part of a series produced by The Huffington Post and the American Heart Association in recognition of National Wear Red Day (Feb. 7, 2014), the aim of which is to raise awareness that heart disease is the No. 1 killer of women. To read all the stories in the series, click here. And to follow the conversation on Twitter -- and share a picture of yourself wearing red -- find the hashtag #RedSelfie.
References:
1) Heart Disease and Stroke Statistics--2014 Update: A Report From the American Heart Association. Go AS, Mozaffarian D, Roger VL, et al Circulation 2013 December 18th.
2) Effectiveness-based guidelines for the prevention of cardiovascular disease in women--2011 update: a guideline from the American Heart Association. Mosca L, Benjamin EJ, Berra K, et al. Circulation 2011; 123:1243-1262.
3) Lifestyle and heart disease : Stampfer MJ, Hu FB, Manson JE, Rimm EB, Willett WC. Primary prevention of coronary heart disease in women through diet and lifestyle. N Engl J Med 2000; 343:16-22.
4) Defining and Setting National Goals for Cardiovascular Health Promotion and Disease Reduction: The American Heart Association's Strategic Impact Goal Through 2020 and Beyond. Donald M. Lloyd-Jones, Yuling Hong, Darwin Labarthe, et al. Circulation 2010; 121: 586-613
5) Fifteen-year trends in awareness of heart disease in women: results of a 2012 American Heart Association national survey. Mosca L, Hammond G, Mochari-Greenberger H, et al. Circulation 2013, Mar 19; 127 (11) 1254-63.
6) Women and Coronary Heart Dsiease: A Century After Herrick: Understudied, Underdiagnosed and Undertreated. Nanette K Wenger. Circulation 2012; 126:604-611.
7) Preamble to the Constitution of the World Health Organization as adopted by the International Health Conference, New York, 19 22 June, 1946; signed on 22 July 1946 by the representatives of 61 States (Official Records of the World Health Organization, no. 2, p. 100) and entered into force on 7 April 1948. http://www.who.int/about/en/index.html. Accessed January 18, 2014.
8) Holistic Health chapter in The Illustrated Encyclopedia of Body-Mind Disciplines, published by The Rosen Publishing Group in 1999 and presented here with permission. American Holistic health Association written by President, Suzan Walter, MBA.
9) www.ahha.org/rosen.htm. Accessed January 18, 2014.