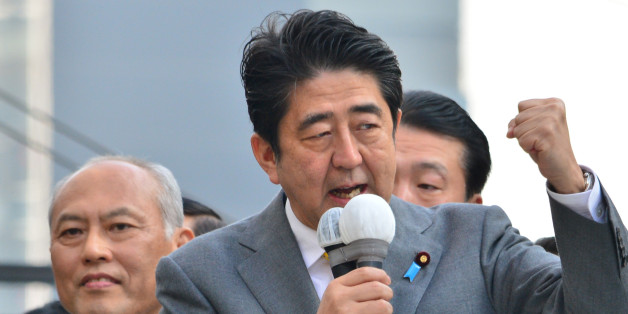 Japanese Prime Minister Shinzo Abe has been riling up Asian neighbors recently with his government's nationalist politics. But once again, North Korea may have taken its response a touch too far.
On Tuesday, an editorial on Pyongyang's official news agency, headlined "Is this the emergence of an Asian Hitler?" accused the Japanese leader of stirring confrontation with North Korea to justify his "militarist fever," AFP reported.
"There is no difference between the fascist maniac Hitler, who waged battle against communists to justify another war, and the reckless Abe who is using confrontation with North Korea to justify Japan's new militarist ambitions," the KCNA article reads.
North Korea has repeatedly lashed out publicly about being unfairly singled out, but concern over the secretive state's nuclear and missile development has spread throughout Asia. Observers of North Korea's threatening rhetoric and penchant for parades would point out the irony of a state news agency decrying another nation's "militarist fever."
The article in question's reference to Hitler, however points to a growing worry among Asian leaders that Japan's conservative government is minimizing the country's World War II involvement, when it invaded and occupied neighboring territories.
In December, Abe was the first Japanese prime minister in seven years to visit the Yasukuni shrine that honors the country's war dead, which includes convicted war criminals from World War II.
The visit outraged Japan's neighbors, including China and South Korea, and even drew a rare reproach from the United States.
While China and South Korea took their complaints to a meeting of the UN Security Council, North Korea -- which is conspicuously absent from such meetings -- chose instead to vent in the state-run press.
With a history of inflammatory rhetoric, North Korea's outburst comes with little surprise. Just last month, the state-owned newspaper called Abe a "militaristic maniac" after he suggested Japan's constitution, which limits the use of force to self-defense, could be revised.