Matt Lauer has arrived in Sochi and he is getting right into the swing of things, from the looks of it.
The "Today" host broadcast live from Sochi, the site of the upcoming winter Olympics, for the first time on Monday. Here he is off screen, grocery shopping with an NBC News staffer: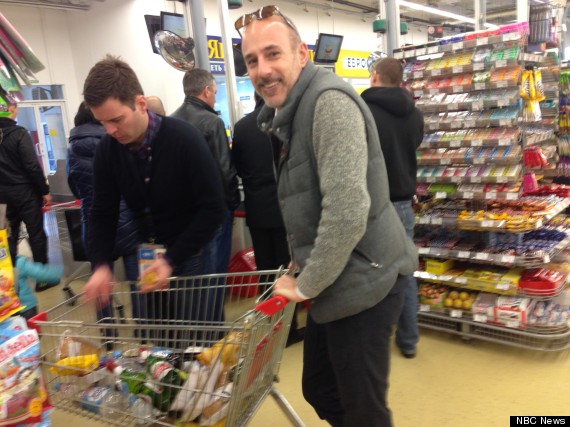 He took in some of the scenery...
Sunset over the Black Sea in Sochi. #SochiTODAY #Sochi2014 pic.twitter.com/7WBKxovqD9

— Matt Lauer (@MLauer) February 3, 2014
Snow in the mountains above Sochi. #SochiTODAY #Sochi12014 pic.twitter.com/voCHNWllrx

— Matt Lauer (@MLauer) February 2, 2014
... and reported from the Olympic Park this morning:
Is Sochi ready? @mlauer live from the Olympic Park up next on @todayshow! #SochiTODAY pic.twitter.com/a9kVRIcJHA

— jennifer long (@jennifer_k_long) February 3, 2014
Willie Geist is currently in Sochi with Lauer, and they will be joined by Savannah Guthrie, Al Roker and Natalie Morales next Monday.