The truth is that the alleged dogfighters from a Bronx ring broken up in June 2008 have had their day in court. In fact, they have had a number of days in court, but it is only now that they will face a jury.
After a year and a half of courtroom delays and postponed trial dates, four of the six men arrested in the bust will finally be tried before a jury of their peers.
Suspected ringleader Alexander Estephane (pictured below), who lives in the building where the bust took place, will stand trial along with Lauritz Acoy, Juan Toledo, and Alterik Mason. Suspect Israel Cuevas' case has been delayed due to illness while Rashaan Johnson is believed to be AWOL and has never showed up to court for any of the hearings.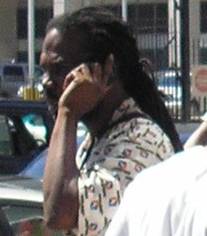 Estephane, Toldeo and Acoy have received felony charges for dogfighting while Cuevas and Mason have misdemeanor charges as spectators. All five defendants have no chance at a plea deal. If proven guilty in a court of law, they will subsequently be charged with the maximum crimes.
However, when it comes to dogfighting penalties, New York State ranks 48 out of 50, and is therefore considered one of the most lax on its dogfighting laws.
- Dogfighting: Felony, maximum of 4 years and a $25,000 fine
- Possession of dogs for fighting: Maximum of 1 year and a $15,000 fine
- Spectator at a dogfight: Misdemeanor with a maximum of 1 year and a $1,000 fine
United Action for Animals has scheduled a peaceful protest outside the Bronx Courthouse where the men will stand trial on Wednesday, February 10, 2010 at 8:30 a.m. Our group will then segue to the courtroom after the protest at 10:00.
UAA is calling on its volunteers and concerned citizens to support the voiceless victims once again. "During this frustrating, arduous process to secure a trial date, I have always been humbled by how many people have come out to all the hearings to show their support," said UAA President, Jennifer Panton. "But now more than ever, we are going to need all those people and more to show the judge and the jury that dogfighting will not be tolerated in our city."
For directions to the courthouse click here.
Contact rtaha@ua4a.org for details or press related to the Bronx dogfight trial.