At the ASPCA, cracking down on inhumane pet breeding is a top priority, and it always helps to have local law on our side. Here in New York state, where the market for pet store puppies is enormous, it makes sense to allow our towns and cities to take steps to protect animals and consumers. After all, who would be more aware of local pet sellers and local breeding operations than local government?
It makes sense, but in New York state, it's illegal.
New York state law currently prevents local governments from regulating commercial dog breeders and pet stores, effectively prohibiting New York City and each of our 1,100 municipal governments from doing anything at all to fight puppy mills. The puppy mill and dog breeding industries want to keep the state law as it is because it allows maximum profit and minimum accountability.
New York pet stores purchase animals from breeders who are frequent violators of the Federal Animal Welfare Act. Many of these operations are allowed to sell even after repeated violations, including denying veterinary care to injured animals, keeping them in filthy and dangerous environments, performing invasive surgeries on their own animals without veterinary licenses, and, in some cases, shooting their unwanted dogs.
A decade's worth of evidence overwhelmingly shows that New York state -- with a population of 19 million -- cannot adequately monitor pet dealers, especially breeders doing "business" in their homes and over the Internet. State officials struggle just to locate commercial breeding premises, much less inspect them. The economic fallout from New York's practically unregulated pet industry -- including investigations, animal cruelty seizures, sheltering costs and legal proceedings -- is also expensive, and a burden on critical time and local resources.
Bottom line: The state of New York cannot possibly drill down into communities where unchecked breeding occurs to effectively protect breeding dogs and their offspring.
But a bill delivered to Governor Cuomo today (A.740-A/S.3753-A) can change all that. Crafted in part by the ASPCA, it will allow local governments to enact more stringent health and safety standards for commercial pet breeders and pet stores if they choose to do so. All it needs now is the governor's signature -- before January 10, 2014.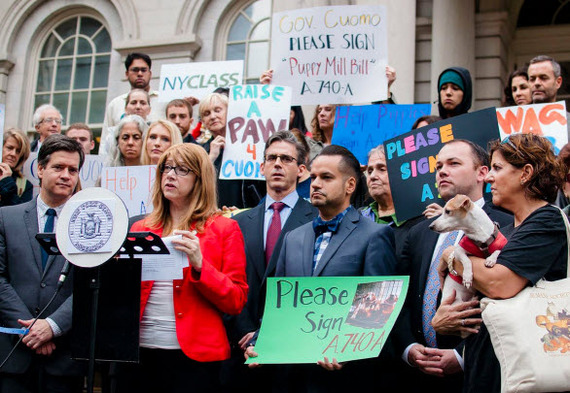 Assemblymember Linda B. Rosenthal (D-Manhattan) speaks at a press conference on November 1, 2013 urging Governor Cuomo to sign A-740.A, which would restore New York municipalities' authority to regulate pet dealers. (credit: Stacey Axelrod/ASPCA)
Pet and breeding industry lobbyists in New York are pulling out all the stops to encourage Governor Cuomo to veto this bill. For New Yorkers and animal lovers, this is unconscionable. Please contact the governor now, let him know that you support this legislation, and urge him to sign A.740-A/S.3753-A into state law!

Matthew Bershadker is President & CEO of the American Society for the Prevention of Cruelty to Animals (ASPCA). Learn more about the ASPCA's mission and programs at ASPCA.org.