By Kim Fusaro, Glamour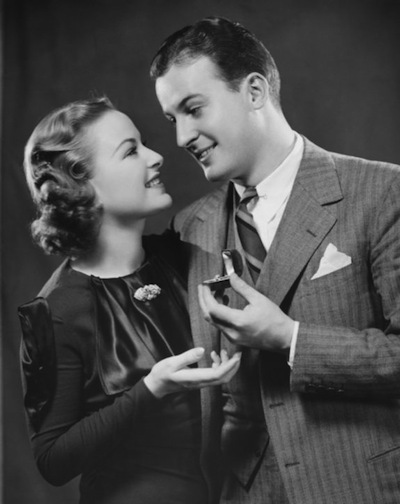 "Can I have it now? How 'bout now? Well WHEN can I have it?"
(Getty Images)
The most wonderful time of the year can quickly become the most irritating time of the year if you're waiting for an engagement ring. With all the family gatherings and the friends-from-home hangouts, there are endless opportunities for people to press you about the state of your relationship. "SO WHEN ARE YOU GETTING ENGAGED?" everyone and her brother and her mother and her dog wants to know. Here's exactly what to tell people:
WHO'S ASKING: Anyone who's already asked ad nauseam.
WHAT TO SAY: "Probably when people stop asking."
WHO'S ASKING: Your coworkers.
WHAT TO SAY: "When we can afford a wedding. Are you chipping in?"
See more: 11 Dating Don'ts You Should Stop Doing Now
WHO'S ASKING: Your recently engaged or married girlfriends.
WHAT TO SAY: "When you get pregnant."
WHO'S ASKING: Your grandmother--or anyone you don't want to be too harsh to.
WHAT TO SAY:"You'll be the first to know when it happens."
See more: Our 10 Favorite Wedding Beauty Tricks of 2013
WHO'S ASKING: The resident gossip at your high school reunion.
WHAT TO SAY:"When I start showing" or "When his divorce is finalized."
WHO'S ASKING: Anyone you just want to shut down.
WHAT TO SAY: "Why do you ask?"
Are people pressing you to get engaged? Does it bug you? Or do you roll with it? What's your best comeback?
More from Glamour:
10 Wardrobe Essentials Every Woman Should Own
25 Celebrity Hairstyles That Will Make You Want Bangs
13 Sneaky Habits That Can Cause Acne
8 Super-Easy Steps for Looking Flawless--Fast!