Women often face the difficult choice of balancing their careers when caring for a child, parent or partner. This can often have detrimental effects when getting back into the work place.
Sadly, the longer a woman stays out of work, the harder it is to get back into her field of choice. When deciding to have children, these are the issues that should be discussed ahead of time to avoid these issues when deciding to return to work.
Women may live longer, but those of us who stay at home with children also have the burden of sacrificing the time in our life during our highest earning potential.
When talking with women about getting back into the workplace after a long hiatus, a question often asked is:
"How can I stand on my own two feet?"
Why This Is Important
This is an important issue for women as we should be able to stand on our own in order to be prepared for whatever life brings our way. Yes, this a touchy subject because some women are taught to wait for prince charming, but a man is not a financial plan and prince charming isn't coming. The reality is that even if you're married, this is still an issue that should be addressed. Too many women find themselves without options once their partners are no longer in the equation for a variety of reasons.
Huffington Post's Jason Alderman published an article speaking to the importance of women learning how to gain financial independence:
Women live longer than men but are much more likely to experience critical health problems that hamper their ability to work -- and to pass up needed care due to cost.
Although the earnings gap between women and men continues to narrow, it's still significant: Among full-time workers, women's weekly earnings as a percentage of men's have increased from 62 percent in 1979 to 80 percent in 2009. (Those numbers represent overall average earnings in all fields, not what men and women are paid for doing the same job -- although such disparities likely still exist).
More women than men now graduate high school and earn college degrees, but far fewer women earn degrees in engineering, computer sciences and other higher-paying fields, which likely contributes to the wage disparity.
Women increasingly are marrying later, having fewer children or remaining childless, yet they still are more likely to live in poverty than men, with single-mother families suffering the worst disparity.
Women are less likely than men to work outside the home (61 percent vs. 75 percent in 2009) and are much more likely to work part-time and to take time off to raise children or care for aging relatives.
As you can see from the last statistic, we are forced to make hard decisions because we birth the children, so by default we're expected to take time off to raise them. Let's plan to make it all work.
The Road Back To Independence
Budgeting Your Money
Whether you're married, single or newly divorced and want to learn how to manage money properly, it's best to start here: 21 Days To Rock Your Finances: Day 1- Create A 1 Year Financial Plan. Understanding the minutia of money management is of utmost importance as we often think that if we make the money, the money management skills will just show up. Not at all. In fact, the opposite is true. Teaching yourself these principles will give you the foundations needed to be successful.
Communication
Talk to your partner about allowing you to manage your money if you don't have that arrangement in your relationship. At the very least, you should have an active role in managing your money even if you aren't in a relationship. Know where your accounts are stored, check your credit report as well as your partners and review the status of all accounts listed on the credit report to keep yourself abreast of everything going on financially.
How Do I Get Back And Stand On My Two Feet?
Self-sufficiency is sexy.
Go back to school. Start there. Did you finish college or high school? Do you want to go back to graduate school? What are you passionate about that requires a degree or certificate? Do you need to go back to school? These are all questions that you have to ask yourself if your path to returning to the work force involves going back to school.
Start a business. Along the same lines of going back to school, what are you passionate about? Do you see a need in the market that hasn't been filled? How can you work to fill that need while creating income for yourself? This can include producing your own stuff to sell on Etsy or Ebay as well.
Renew or update your skills. If you're in a field like myself, then you'll need to make sure that applicable licenses or certifications are always up to date as allowing them to lapse costs more time and money. Talk to the licensing or certification board within your field and find out what you need to do in order to maintain your skills in this area. If you plan on applying to jobs that require a license or certification then you'll need to make sure this is up to date. Attend workshops and conferences in an effort to remain up to date with the current trends in your field as well. This also gives you the opportunity to network with others.
Find Your Sisterhood of Success AKA "Personal Board Of Advisors"
Who supports you professionally when it's time to make hard professional decisions? Do you have a group of women or even one woman that you can turn to? I take that back, it doesn't have to be a woman. Anyone who supports you and is able to provide professional guidance will do. Women are more successful when they have mentors guiding them both personally and professionally. Especially when when women mentor women. Great things happen!
This starts with choosing your Personal Board of Advisors. Some of you might refer to this as "Auntie/Big Sister in my Head". Personally, I have always imagined Oprah, Tyra, Beyonce and Michelle Obama as big sisters and aunties in my head, so you get my drift!
How do you choose your Personal Board of Advisors? @ChiefHotMomma gives us some tips on getting started: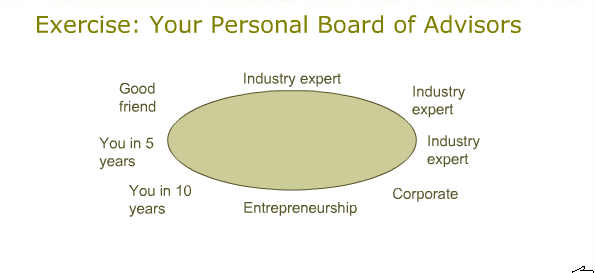 Visualize yourself in a room with all of the people who represent each place setting. Who do you want in that spot supporting you throughout the years?
Once you've picked who you want in your Sisterhood of Success, chart a plan to connect with them. This can be someone who is readily accessible or someone you've admired from a far. In the latter case, do your home work and make the process easier for them. Remember, flattery will get you what you need. Let them know how much their work means to you and that will open the door to discussions around lending their time to help make you a success.
Roadblocks To Financial Independence
One of the best pieces of money advice my mom gave me years ago is that:
"Women often work hard at teaching their children the art of being independent while abdicating that responsibility to themselves."
Powerful. We often teach to our children what we won't live for ourselves.
I think it's great that we want to be there for our kids when they're growing up but we often forget about who we will be once they are independent and don't need us anymore. It is often after the kids are in school or in the unfortunate event of a separation or divorce that some women think about returning to work or how they will support themselves. And, without a doubt, this can be difficult. Being out of the job market for years can hamper the job search process once they choose to return. This leads to issues around self-worth due to feeling that they aren't able to stand on their own, financially.
If you're planning to stay at home with the kids once you have them, create a plan that enables you to keep your resume fresh and skills updated while you do so. There's no reason to neglect your career during this time as one never knows what the future holds. It may lead to you needing to re-enter the workforce and hoping that someone will hire you once again.
Getting back on your feet financially can seem like a daunting task. However, when you look at the alternatives if you don't, therein lies the motivation to get started on a plan taking you back to the road called financial independence.
Video Powered by Bank of America: