Santa Barbara -- the land of bikini-clad college students, beachside Mexican food, and, apparently, hidden French Romantic masterpieces.
According to the L.A. Times, a previously unknown painting was identified there, standing out as the possible handiwork of Eugene Delacroix, an artist best known for "Liberty Leading the People" and "Death of Sardanapalus."
The painting in question is "The Last Words of Marcus Aurelius," which depicts the stoic philosopher in a sickly state, his pale body surrounded by his successor son and other followers.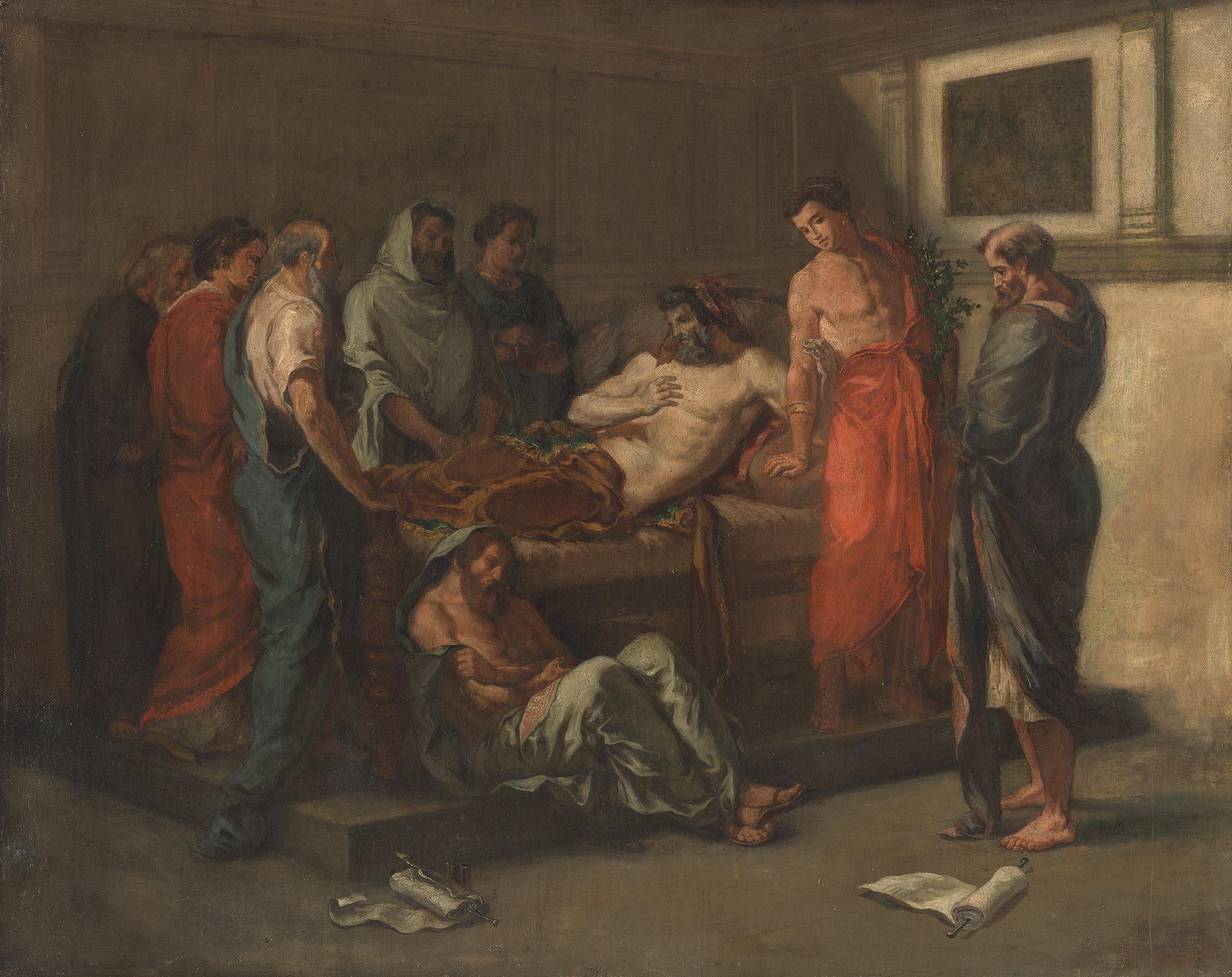 Eugène Delacroix, The Last Words of Marcus Aurelius, n.d. Oil on canvas, 25 5/8 x 31 3/4 in. The van Asch van Wyck Trust.
The work, a version of an iconic Delacroix canvas housed in the Museum of Fine Arts in Lyon, France, originally appeared in a private collection by the name of the Van Asch van Wyck Trust before curator Eik Kahng discovered the hidden gem and relocated it to the Santa Barbara Museum of Art. So, how did a Delacroix manage to go unnoticed until then?
"The lack of signature on the painting is not uncommon among works by Delacroix," Kahng explained to the Santa Ynes Valley News. "The artist often retained cherished paintings in his studio, keeping them for future reference or to give to friends as gifts."
Kahng remains confident in the painting's validity, enough to include it in an intimate Delacroix exhibition at the Santa Barbara Museum, entitled "Delacroix and the Matter of Finish," that toys with various interpretations of the word "finish."
Kahng explained her excitement over the impressive art find in an email to the Huffington Post.
"There is no better reward for a curator than that rare occasion when a complete stranger calls you up and tells you about a fantastic work of art that actually turns out to be authentic. When I saw this painting for the first time, I had a gut feeling that it had to be the real thing. The longer I studied it, the more I began to appreciate the subtle complexity of the brushwork and intermingling of hues. It's been a great joy to have this work of art in my life and even a greater thrill to see it surrounded by autograph works and see how well it stands up to the test."
Only time will tell what other Delacroix scholars think of the 19th century work. In the meantime, it's worth taking a moment to look back on the year's best dramatic discoveries, from this James Turrell in a beach house to a Rene Magritte hidden in plain sight. See more jealousy-inducing finds in the slideshow below.
"Delacroix and the Matter of Finish" will show at the Santa Barbara Museum of Art until January 26, 2014.