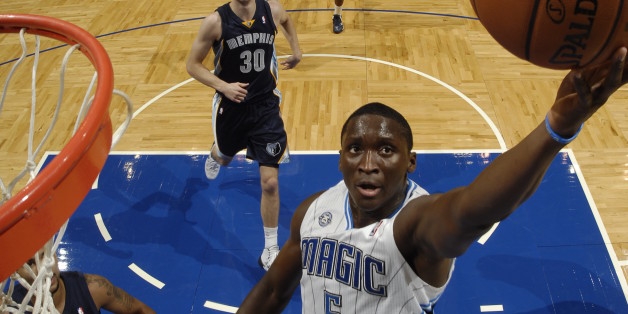 The 2014 NBA Draft class might be the most talented crop of hoopers since the famed 2003 draft including LeBron James, Dwyane Wade, Carmelo Anthony and Chris Bosh. But that hardly means we should overlook this year's incoming class, which features a strong blend of scoring, toughness and some possible star power. Let's take a look at five of the key story lines for this year's rookies.
1. Victor's World
Victor Olapido, Orlando's second overall pick, is something special. While scouts questioned his natural scoring ability and shooting touch coming out of Indiana (they did the same when he came out of high school), he wowed with his relentless defense, tenacious rebounding and overall appetite for making plays. Oladipo may not have a true position quite yet, but neither did Russell Westbrook or Wade when they came out of school -- and make no mistake, the comparisons to both are real. Oladipo earned consensus First-Team All-America honors during his junior season at Indiana. He is an immediate impact guy because of his range and winning style of play. He will surprise some people with his scoring, too, and in time he could very well become the best player in this class.
2. Sleeping Giants
This class didn't receive a lot of hype in part because of a perceived lack of superstar talent and a dearth of big men. Yet two of 2013's first-year centers, Boston's Kelly Olynyk and Oklahoma City's Steven Adams, both 7-footers, will make immediate impacts.
Olynyk is much, much further along in terms of skill, having redshirted a year at Gonzaga and starred last season as a third-year sophomore. He's more of a face-up guy right now, but possesses a nice touch around the basket and even out to the three, where he will serve as a dangerous pick-and-pop big. With Kevin Garnett gone, Olynyk will earn hefty minutes from Boston coach Brad Stevens and should be in line for a productive rookie campaign, on the heels of an impressive summer league and preseason.
Adams, meanwhile, is an absolute behemoth at 7 feet and 255 lbs. During his lone season at Pittsburgh, the New Zealand national struggled immensely on the offensive end, but displayed tremendous rebounding and shot-blocking potential. Kendrick Perkins is coming off an atrocious postseason where Oklahoma head coach Scott Brooks essentially replaced him whenever he could. And because of OKC's robust offensive talent, Adams will not be asked to score.
Moving forward, both guys show a lot of promise in different areas, and despite lacking the pedigree of Nerlens Noel, Cody Zeller and Alex Len, they should be on your radar right away.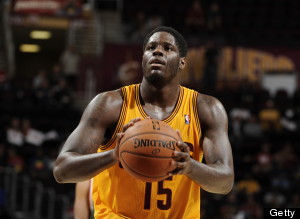 Anthony Bennett, the first overall pick in the draft, will immediately contribute for the Cavs. (Getty Images)
3. What About The Top Pick?
Cleveland pulled off a stunner when it nabbed UNLV freshman forward Anthony Bennett first overall back in June. While he lacks a true position, Bennett is a great talent and powerful athlete. The Cavs are starting to build something really special, with Kyrie Irving as the cornerstone alongside Andrew Bynum, Dion Waiters, Tristan Thompson and now Bennett, whose diverse skill set will make it hard to keep him off the court. With Bennett running the floor and playing both the high and low post, few teams will be more exciting to watch night in and night out than the Cavaliers.
4. Point Guard Play
In step with one of the league's growing trends, this class has an assortment of great point guards. Trey Burke of Utah (who will miss at least a month with a broken finger) is certainly one to watch. The 6-foot Burke had a horrendous summer league though, and struggled to consistently get his own shot against longer defenders. Still, his combination of intelligence and elite shooting make him a highly intriguing young player.
There's also former Syracuse standout Michael Carter-Williams, who, unlike Burke, has the size at 6-foot-6, but can't shoot a lick. Philly thought enough of MCW -- the nation's second leading assist man as a sophomore last season -- to make him the 11th pick in the draft. Consistency will be an issue for him during the early stages of his career, but Carter-Williams is a sensational athlete with great passing skills that will earn him a lot of minutes.
And let's not forget about German product Dennis Schroeder, a blazing lead guard whom Atlanta took at No. 17. Schroeder just turned 20 and is quite raw, but the comparisons to Rajon Rondo are not far off. His lethal speed and defensive ability will instantly make a difference for the Hawks. My favorite of the bunch is Portland combo man CJ McCollum -- the 10th pick in the draft -- a deadly perimeter shooter and underrated playmaker who will miss some time after re-injuring his foot. When he returns, McCollum will blend in nicely alongside 2012 Rookie of the Year Damian Lillard, a highly promising young point guard with similar skills. McCollum, who averaged 21 points in the Las Vegas Summer League, is an excellent outside shooter who can really pass the ball, too.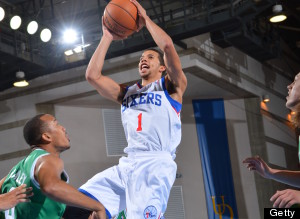 Former Syracuse point guard Michael Carter-Williams has great size and some tantalizing skills, but there are some gaping holes in his game. (Getty Images)
5. Biggest Bust
One year is hardly enough to fairly assess an entire career, but if we're talking about high-profile draftees who will struggle as rookies, three names come to mind: Nerlens Noel, Michael Carter-Williams and Shabazz Muhammad.
I cannot stress enough that Noel slid in the draft for reasons beyond pure circumstance. It's not that Cleveland or Washington or any of the other teams that passed on him didn't need a hybrid 4-5 man. Noel is a huge project who has shown zero natural offensive ability and who measured shorter than we thought. It's not that he won't have a productive career, but I don't see a shred of star ability for a guy everyone and their grandma thought would be the top pick. Throw in the glaring injury concerns -- he's reportedly going to miss the entire season -- and the question marks multiply.
With MCW it's not a question of talent, but rather of competitive grit from a player in the game's most crucial position. I don't think he's a winner or a warrior, and there's way too much Shaun Livingston here for me to ignore. In other words, Carter-Williams' stats are good on paper, but something is clearly missing when you watch him play.
The same can be said about Muhammad, who entered UCLA as the top-ranked high school player in America. But he isn't particularly athletic or creative with the ball. As one NBA veteran who's played with him told me recently, he doesn't really have a good feel. To be sure, 6-foot-8 left-handed scorers don't come along often, but Muhammad flamed out in college, disappeared in far too many big games and lied about his age.
For more NBA 2013, check out my Eastern Conference preview here and the Western Conference preview here.
Email me at jordan.schultz@huffingtonpost.com or ask me questions about anything sports-related at @Schultz_Report. Also, be sure and catch my NBC Sports Radio show, Kup and Schultz, which airs Sunday mornings from 9-12 ET, right here.