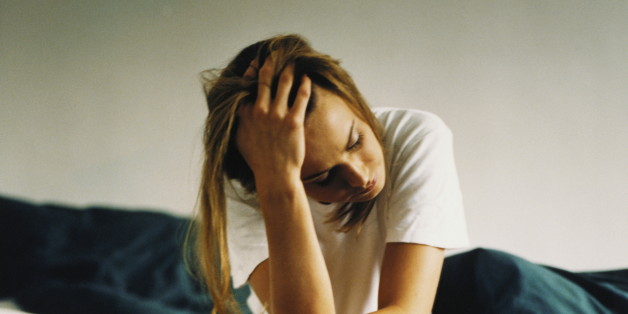 Depression is much more common among people who get migraines than those who aren't affected by the headache condition, according to a new study.
More than 12 percent of women with migraine also have depression, compared with 5.7 percent of women who don't get migraines, found researchers from the University of Toronto. And 8.4 percent of men with migraine have depression, compared with 3.4 percent of men who don't get migraines.
More than 67,000 Canadians participated in the 2005 Canadian Community Health Survey, data from which was used for the new study.
Researchers found that age is a huge factor in the depression-migraine association, with younger people with migraines having a much greater odds of depression than older people. Specifically, women younger than age 30 were six times were more likely to develop depression than migraineurs ages 65 and older. People with migraines who were also unmarried, or who had problems doing every day tasks, were more likely to have depression.
Suicide ideation among people with migraine was also analyzed. Researchers found that 17.6 percent of women with migraine had "ever seriously considered suicide or taking [their] own life," compared with 9.1 percent of women who don't get migraines. And 15.6 percent of men with migraines had the same thought, compared with 7.9 percent of men who don't get them.
"We are not sure why younger migraineurs have such a high likelihood of depression and suicidal ideation. It may be that younger people with migraines have not yet managed to find adequate treatment or develop coping mechanisms to minimize pain and the impact of this chronic illness on the rest of their lives," study researcher Meghan Schrumm, a former graduate student at the university, said in a statement. "The much lower prevalence of depression and suicidal ideation among older migraineurs suggests a promising area for future research."
While the findings, published in the journal Depression Research and Treatment, show an association between depression and migraine, they do not prove that migraines cause depression, or vice versa. It's not yet definitively clear if experiencing chronic pain from migraines could then lead to depression, or if the brains of people with depression are hardwired also for migraines. However, there has been research showing that people with migraines do have a higher risk of later developing depression, including a Brigham and Women's Hospital study presented at a meeting last year of the American Academy of Neurology, that showed women with migraines have a greater risk of developing depression than their migraine-free counterparts.
"We don't want to scare patients, and we know that migraine sufferers suffer a lot because of the migraines themselves," Dr. Tobias Kurth, the author of that study and a neuroepidemiologist at Brigham and Women's Hospital, previously told HuffPost. "But this highlights the need [for doctors and patients] to talk about the possible risk of depression."