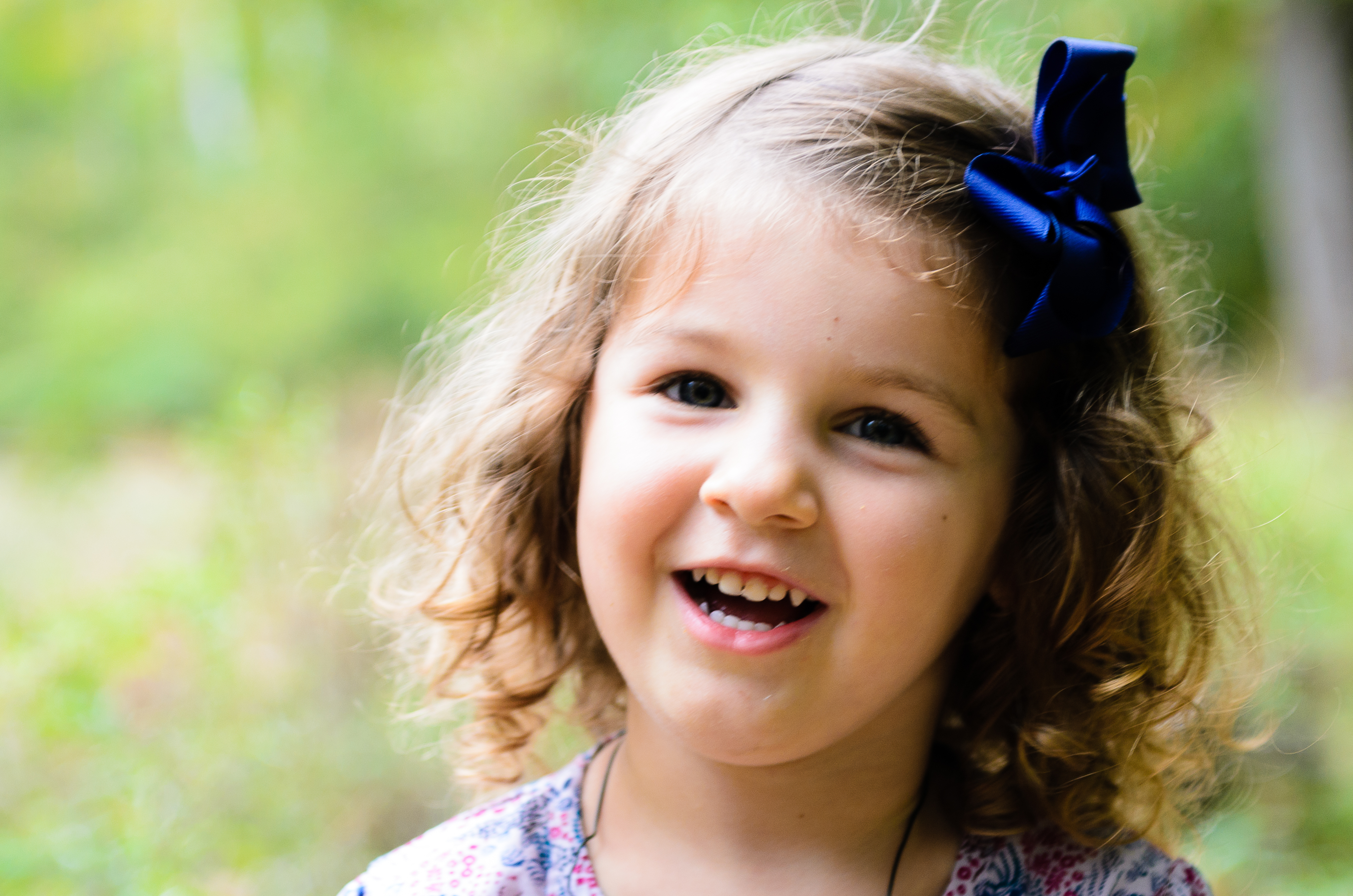 Many techniques given in this article were used to be able to get this photo!
It's that time of year! Time to plan the holiday card photos. Several top Momtographers have shared their secrets to unforgettable family photos. The best part is, no fancy equipment or editing software is needed. All of the tips below can be used by anyone, whether you are using an older model point-and-shoot camera or a top-of-the line DSLR. The only gear really need to put all of these tips into practice is a tripod to help you get in the picture. The Joby Gorillapod is a great choice for its low price-point , versatility, and durability.
Me Ra Koh is a star photographer of screen, seen on Oprah and Disney, and "stage" when she and her amazing team of teachers present live CONFIDENCE workshops all over the country to Momtographers and aspiring Momtographers who want to gain the confidence and skill to use their cameras. She recently published Your Child in Pictures and has a great free newsletter. I can't give away all of her secrets, but by signing up for her newsletter you will get tips that will change how you take photos.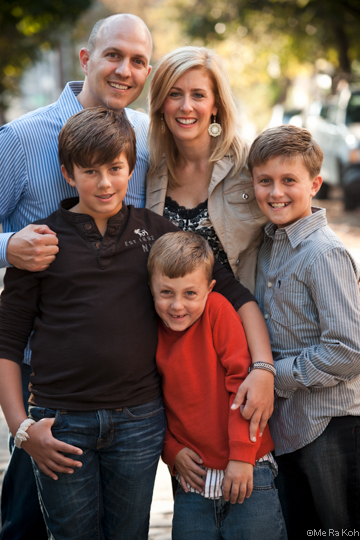 Photo: Me Ra Koh

Me Ra's Tips:
1. What Do We Wear?
This is the question most often asked before a family photo shoot. Mom is ready and often willing to buy a whole new wardrobe for her family to look their best, but is that necessary? What does the family wear? Over the years, I have come up with my favorite answer. I tell the mom to wear what she feels most beautiful in and have the family compliment her. If mom feels comfortable and beautiful, her confidence will translate in the photos. And instead of buying a whole new wardrobe, maybe there is an accent piece she can buy for the kids, like this mom did with buying her daughter a purple scarf that accents her own colors.
2. Secret to Cooperative Kids
Set a timer. If you are taking your own family holiday photo and feeling the resistance of your kids cooperating, my best tip is to set a timer. Tell the kids you are going to set the timer for thirty minutes, and whether you have the perfect family holiday photo or not, you promise to stop when the timer goes off. This helps kids relax and engage, knowing there is a finish time in site. Also, SONY now has a Smart Remote app where you can connect your smartphone to your NEX camera and see what your camera sees on your smartphone making the process of taking photos faster and easier.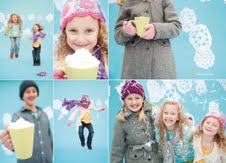 Photo: Davina Fear
Davina Fear is a master at helping Moms capture each family's unique "Famliyness" through her Familyness Photo Workshop and completely free The Art of Familyness Photo ebook, both of which encourage Moms to capture the ordinary moments of family life in a unique and memorable way.
Davina's Tips:
1.Pick a fun idea.
Involve your family in the process of picking something fun as your theme or as your location.
Doing something that everyone has already had a great experience with will make your chances for a great photograph that much better.
2.Use a simple background without weather concerns.
Using my garage is how I did a super fun snowflake and cocoa photo shoot with my kids. We brainstormed together about what a fun photo shoot would look like and decided that snowflakes would be super festive. I set up a blue roll of seamless paper (but you could set up with a white or colorful flat sheet that's been ironed and tacked to your garage wall). We made hot cocoa by stuffing paper towels down inside the cups and spraying whipped cream on top (so we wouldn't keep spilling the hot cocoa everywhere). Prior to the shoot we all worked tirelessly to cut out snowflakes and cut up strips of paper in our paper shredder.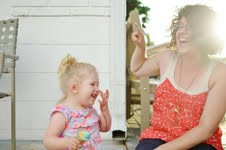 Photo: Beryl Ayn Young
Beryl Ayn Young teaches everything from Momtography basics to editing classes to help ensure that Moms get the photos of their kids they always wanted. But, she also knows how important it is for Moms to get in front of the camera too.
Beryl's Tip:
It's so important as we fall in love with our cameras to make sure we don't fall victim to hiding behind the lens all the time. Our kids need beautiful memories preserved of us just as much as we need beautiful memories preserved of them. This can present a series of challenges from the personal image issues we may harbor to the technical side of how to get us back in the frame. The more we can open our up our minds and hearts to be in front of the lens, the easier it will become (I promise!) Just remind yourself of how important it is for your kids to have these memories and in 30 years they won't care about the bad hair day you were having or the yoga pants you were wearing. On the technical side, the best investments I made to get myself back in front of the lens were a tripod and a wireless DSLR remote. The remote works with my camera's shutter so all I have to do is set up my shot, snuggle with my kids and family, and push the remote's button to take the photo. If your camera doesn't have the option for a remote there is usually a setting in the camera to put your shutter on a 10-20 second delay. Or there is always the option to pass the camera off to another family member, friend, or stranger to snap a quick photo with you in it too. By letting go of our desire for perfection in ourselves in our images the ability to get in the shot more and more opens wide.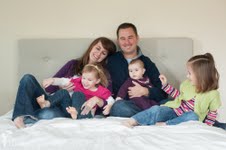 Photo: Courtney Slazinik
Courtney Slazinik is the founder of Click It Up A Notch a photography blog offering tons of tutorials geared towards Moms.
Courtney's tips:
1.Finding the light is key to capturing that perfect family photo.
If you are photographing indoors, look for a window that is north or south facing as these windows don't have direct sunlight and illuminate your subject nicely. Have your family facing towards the window, ideally at a 45 degree angle. This helps to create catchlights which help add that little sparkle to your eye.
2.Lower your exceptions.
When photographing your family, get rid of the idea of capturing the perfect image. Don't expect everyone to be looking at the camera and smiling. Once you lower your expectation to just, having everyone in the photo, the whole experience will be more enjoyable for you and your family.
Drew Bittel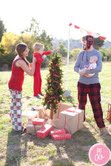 Photo: Drew Bittel
Mom*Tog Drew Bittel runs the blog Mom*Tog which is chock full of tips on getting good photos of your kids. For getting great photos of your kids she recommends giving the kids something to do.
Drew's Tip:
The best holiday pictures are those where it looks like your family is having fun. And what better way to look like you are having fun than to actually have fun while taking your pictures! Decorating a tree, sledding, and baking cookies are all examples of fun family activities that will distract kids from the task at hand. It gives them something to do with their hands and you will be able to capture their true personalities. Which is way better than the fake smiles you get when you ask them to pose and say "cheese" to the camera, right?
The Beloved approach to photography centers on moving away from traditional posed photographs and presenting "invitations" to those being photographed to capture genuine emotion. Present these, or other invitations, and be ready to shoot!
Beloved Collective's Tips:
Questions:
What would be your best present to receive?
What would you say to Santa if you saw him in your house?
What is your best memory of Christmas?
If you were Santa what would you give (mom, dad, brother, sister, best friend, etc)?
What would you give Santa?
If (mom, dad, brother, sister, best friend, etc.) were a reindeer which reindeer would they be?
If you had no money to buy a present for (mom, dad, brother, sister, best friend, etc.) what would you make/give them?
Games:
Show Santa how much you have grown since last Christmas. This can be done standing face to face or back to back.
Imagine your nose is red like Rudolph's nose - whose nose is longer? Have two kids or a kid with a parent stand nose to nose.
Show Santa how much you lose mom/dad by how you hug them or kiss them.
Christine DeSavino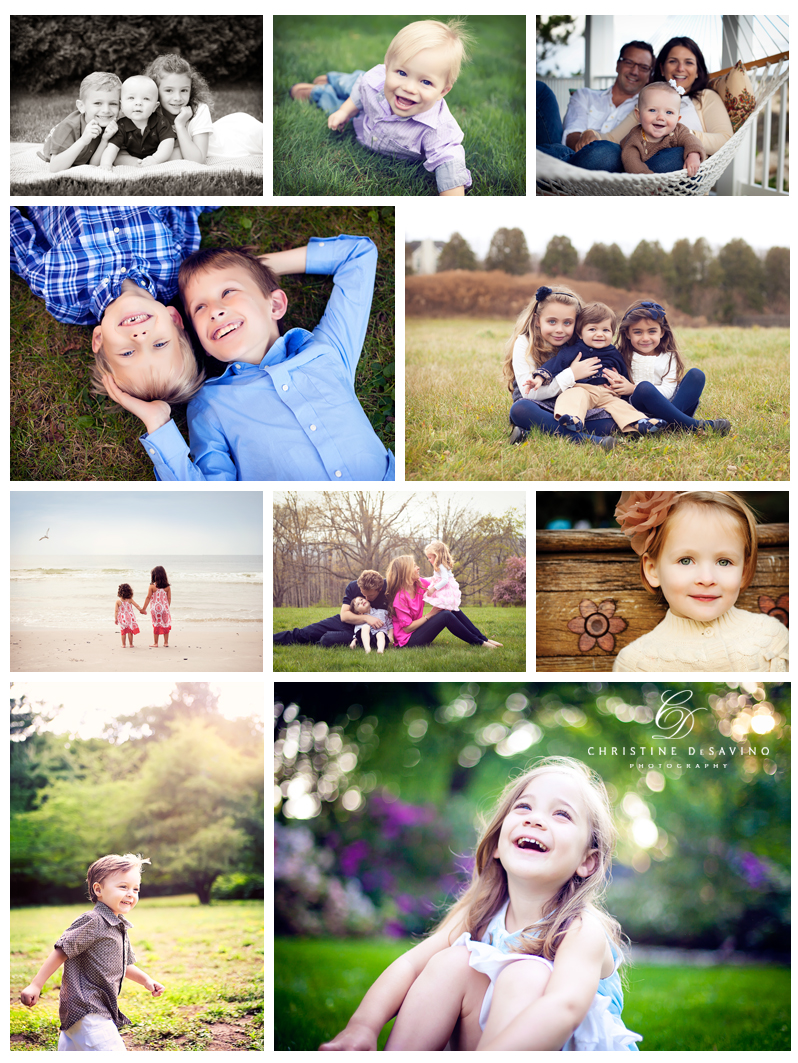 Photo: Christine DeSavino
Christine DeSavino is a NJ based photographer whose love of capturing natural expressions led her to develop the DaisyGrip, a posing tool that attaches to the top of your camera to hold puppets, toys or an iPhone or smart phone above your camera's lens.

Christine's Tips:
I like to get as wide a variety of posing and expressions as I can so I have plenty from which to choose, and I like a mixture of posed and unposed shots. Very often the unposed are the ones that really showcase your family's personalities. I'll often start with a nice pose of the family together. As they are posing, I'll try to say something to them that may illicit a natural reaction from them, like, "So, who in your family has the stinkiest feet?" Another technique I use is putting a DaisyGrip on my camera; this tool holds a wide variety of toys or puppets right above the camera and can really enhance the story-telling magic that one needs when photographing little kids. For example, I may put a monster puppet on top of my camera, introduce him to the kids and then say, "I've told him a million times to stay off of my camera but he keeps climbing up there! You know what I think will make him fall off?
These tips from the top Momtographers are sure to help you get the holiday photo you have always wanted. With a little creativity to your approach and a bit of patience you *can* get the holiday card you have always wanted.