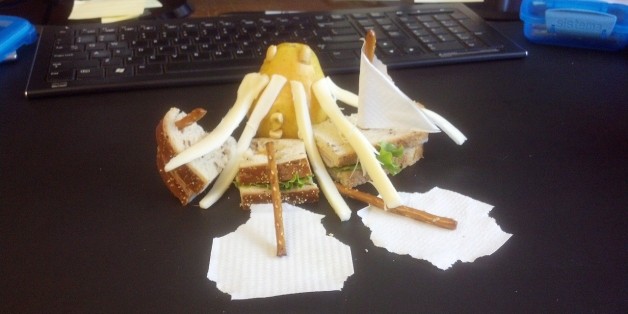 Eddie's lunch is more creative than your lunch. Eddie's lunch is more photogenic than your lunch. Eddie's lunch has a better understanding of art, history and cinema than your lunch. In short, Eddie's lunch is better than your lunch, even if your lunch is at a four-star restaurant. By "better," of course, we mean much more entertaining.
Eddie's Lunch is a Tumblr devoted to desk lunches. But not sad desk lunches or ordinary desk lunches, desk lunch works of art. "Eddie" is actually Andrew McCarthy (I didn't ask, but I'm assuming he isn't that Andrew McCarthy), a nice guy with a day job who wanted to make fun of all of us for sharing our lunches on social media. What started as a joke, as it often does, turned into a hobby and McCarthy started a Tumblr devoted to his lunchtime sculptures.
Originally I had planned to "spam" my Facebook "friends" with pictures of my boring meals for a few days. This got old quickly, so I tried anthropomorphism to keep the gag fresh, which led to making scenes. Enough people commented on them in real life that I decided to see how long I could keep coming up with them.
What that experiment led to has had us giggling for days. McCarthy said each scene takes 15 to 30 minutes to set up and photograph, and that whenever he brings his lunch to work, he makes himself take a photo. Check out a few of our favorite scenes below, and head over to Eddie's Lunch for the full experience. We're pretty excited to see what comes next.
Want to read more from HuffPost Taste? Follow us on Twitter, Facebook, Pinterest and Tumblr.