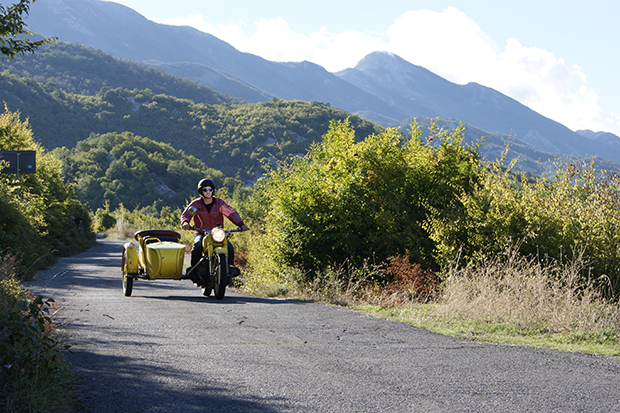 "A little thought and a little kindness are often worth more than a great deal of money" -- John Ruskin
Murphy's law states that when everything can go wrong it will. What Murphy didn't bargain for, however, was a Montenegrin farmer coming to save the day! Let me explain.

I had ridden Kindness One® from Kosovo and was riding through the hilly and beautiful terrain of Montenegro. The small mountain road I was on, was suggested to me by a young couple in the capital. There were shear drops all over and I had misjudged the gas left in the tank. The fact that I was going up and down hills didn't help the gas consumption situation. The bike started sputtering and I switched it to reserve barely making into a mountain village.
As I was preparing to spend the night in Kindness ONE® (I had already had that misfortune in Lake Como), I was approached by a young chap who had seen me speaking with the locals asking for help. None of them spoke English, but this guy did! I told him of my plight and he invited me back to his farm for a place to stay and some gas! I had been saved.

What he didn't mention was that I had to work for my blessings... I milked the families cow, fed the goats and tended to the tobacco crop. In return I got a place to rest my head, some gas for Kindness ONE® and Murphy lost the chance to rule the roost once more...
I am currently on a journey that is powered by the kindness of strangers. With no money, no credit cards, no gas and no place to stay, I am circling the globe on a bright yellow, vintage motorcycle with a sidecar, Kindness ONE® (Sort of like Air Force One, but kinder). Please click here to read more.