 Terry McAuliffe is still leading by a little in Virginia, Cory Booker is still leading by a lot in New Jersey, and Americans are still deeply confused by the debt ceiling. This is HuffPollster for Tuesday, October 8, 2013.
VIRGINIA: MCAULIFFE LEADS ON THREE NEW POLLS - The first comes from a new bipartisan alliance of firms, sponsored by Politico, that conduct automated recorded voice surveys over landlines. Alexander Burns: "Democrat Terry McAuliffe has opened up a significant lead over Republican Ken Cuccinelli in the Virginia governor's race amid broad public disapproval of the federal government shutdown, according to a POLITICO poll of the 2013 gubernatorial election. McAuliffe, the former national Democratic Party chairman, is now 9 points ahead of Cuccinelli, the current state attorney general, in a race that also includes Libertarian nominee Robert Sarvis. In the survey, McAuliffe drew support from 44 percent of Virginians versus 35 percent for Cuccinelli and 12 percent for Sarvis….The POLITICO poll, conducted by Democratic firm Public Policy Polling and Republican firm Harper Polling using automated survey methodology, is the first snapshot of the Virginia race to take into account the impact of the closure of the federal government." [Politico]
Roanoke College: "Democrat Terry McAuliffe has opened a six-point lead over Republican Ken Cuccinelli (40%--34%), while 16 percent of likely voters in Virginia remain undecided in the 2013 gubernatorial election, according to The Roanoke College Poll. Libertarian candidate Robert Sarvis was supported by 9 percent of respondents.…Including likely voters and adding in those who said they are leaning toward a candidate reduces McAuliffe's lead over Cuccinelli (41%--36%), while Sarvis rises to 9 percent, and 13 percent remain undecided." [Roanoke]
Christopher Newport University: "Democrat Terry McAuliffe holds a commanding 9% lead over Republican Ken Cuccinelli among likely voters with just over four weeks to go before Virginians decide who will be their next governor. Libertarian candidate Robert Sarvis is garnering 8% among likely voters, but fewer than half of those who say they are going to vote for Sarvis say their decision is very firm. Eight in ten McAuliffe and Cuccinelli
voters say their decisions are very firm." [CNU]
Pollster chart - The new surveys bring to 18 the number of consecutive polls conducted since mid July showing McAuliffe with at least a nominal lead over Cucinelli. As of this writing, the HuffPost Pollster chart, which produces a combined estimate of candidate support based on all available public polls, gives McAuliffe a lead of nearly seven percentage points over Cuccinelli (49.9 to 37.3 percent) with 10.2 percent for Sarvis. [Pollster]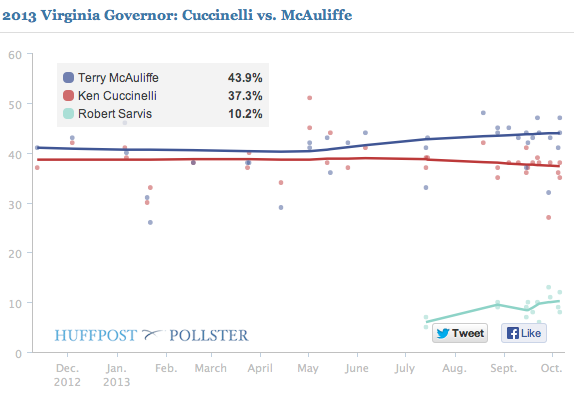 Lt. Gov: Democrat Northam leads - Two of the polls show Democrat Ralph Northam leading Republican E.W. Jackson in the contest for Lieutenant Governor of Virginia. The Roanoke College poll shows Northam leading Jackson by 4 percentage points (39 to 35 percent) with 27 percent unsure. The CNU poll gave Northam a "commanding," 11 point lead (48 to 37 percent) with 16 percent undecided.
NEW JERSEY: BOOKER LEADS...BUT TURNOUT? - With New Jersey's special election to fill a vacant U.S. Senate seat just a week away, another poll shows little suspense about a race that many registered voters seem to be tuning out. Fairleigh Dickinson University: "[In the] U.S. Senate race, Democrat Cory Booker maintains a solid lead over his Republican opponent, Steve Lonegan (45 to 29%, respectively) among registered voters. Fifteen percent are following the race "very closely" with another 32 percent who are following it "somewhat closely." When asked if they could provide the names of those running for the Senate, only a third (33%) named both major party candidates, with 23 percent who identified just Booker, and 3 percent who provided only Lonegan's name....With less than a month to go, Democrat Barbara Buono been unable to chip away at the sizable lead Governor Christie has had over her in past surveys. Among registered voters, Christie attracts the support of 58 percent to Buono's 25 percent, a gap that is even greater than when the same question was asked in August." [FDU]
*"No likely voter screen?" - The survey sampled all registered voters, not the narrower population likely to cast a ballot on Wednesday,* October 16. "The historic nature of the oddly timed Senate election makes it difficult to identify who is likely to turn out among registered voters," says FDU political scientist and pollster Krista Jenkins in their release, so...they didn't. [h/t @HotlineSteve]
AMERICANS OPPOSE TYING SHUTDOWN TO HEALTH CARE FUNDING - Steven Shepard: "Americans are divided on who deserves blame for the government shutdown, but one thing's certain: A solid majority thinks it's wrong to demand changes to Obamacare as a price for reopening the government. The latest United Technologies/National Journal Congressional Connection Poll finds little consensus on whom to blame for shutting down the government—38 percent say it's the Republicans, 30 percent say it's President Obama, and 19 percent say it's both. But public opinion is clearer on the House GOP's approach: Overwhelmingly, Americans think Congress should fund the federal government and deal with health care separately; and just as strongly, Americans oppose including GOP priorities—even those with which they otherwise agree—in a bargain to raise the debt ceiling." [National Journal]
MOST DON'T WANT DEBT CEILING RAISED - Dana Blanton: "A Fox News national poll asks voters to imagine being a lawmaker and having to cast an up-or-down vote on raising the debt ceiling: 37 percent would vote in favor of it, while 58 percent would vote against it….Meanwhile, by a nine percentage-point margin, voters are likely to think the automatic government spending cuts that went into effect March 1 are more a good thing than a bad thing (48--39 percent). That's mostly unchanged from how voters felt about the sequester cuts earlier this year." [Fox]
HANDICAPPERS: GOP HOUSE LOSS POSSIBLE, NOT YET LIKELY - Charlie Cook: "At The Cook Political Report, we have always said, given their structural advantages, House Republicans would pretty much need to self-destruct to lose control of the chamber. Today, they seem to be flirting with just that possibility, but the election is still more than a year away, and it is far too early to say that the House majority is at risk. Minimal net party change is still the most likely outcome, but we no longer forecast a GOP gain of two to seven seats; that swing could now just as plausibly go in Democrats' direction... Given current district lines, and the geographical "sorting out" that has taken place over the past three election cycles (Democrats tend to live in highly concentrated urban areas, "wasting" a lot of votes; Republican voters tend to be more broadly geographically distributed and thus more efficiently allocated), no one is very confident that a turnover will occur, although it could." [National Journal]
-Stu Rothenberg: The polls showing Republicans 'in grave danger" of losing their House majority, conducted by the Democratic firm PPP and paid for by the MoveOn.org, "must be taken with at least a grain of salt...But picking apart these automated PPP polls — and there are many questions about the samples, the questions and the interpretations — misses the key point: Surveys conducted in the first few days of the shutdown have a very short shelf life, since it's dangerous to draw sweeping conclusions about voter behavior a year from now while in the middle of a media frenzy. Is the House in play now? Of course not. My newsletter's most recent race-by-race assessment, completed just days before the shutdown began, found that the most likely overall outcome next year is a small gain for one of the parties. At this point in the cycle, there is no compelling evidence that a Democratic wave is developing, which is what the party would need to net the necessary 17 House seats to win the majority. That's not to say it can't happen, of course. If the shutdown (and, possibly, inaction on raising the debt ceiling) creates a severe economic downturn for which Republicans get most of the blame, anything could happen. [Rothenberg]
HUFFPOLLSTER VIA EMAIL! - You can receive this daily update every weekday via email! Just enter your email address in the box on the upper right corner of this page, and click "sign up." That's all there is to it (and you can unsubscribe anytime).
TUESDAY'S 'OUTLIERS' - Links to more news at the intersection of polling, politics and political data:
-Americans prefer all sorts of things to Congress. [PPP]
-Greg Sargent thinks the shutdown will give Democrats a recruiting boost. [WaPost's Plum Line]
-Nate Cohn finds fewer blame the Republicans now than blamed them for the 1995 shutdown. [http://www.newrepublic.com/article/115064/shutdown-2013-gop-stronger-now-1996]
-Harry Enten credits MoveOn and PPP for pushing their preferred message (that Republicans can lose). [Guardian]
-Sam Wang thinks the Republicans have put their majority at risk. [PEC]
-The Romney campaign's internal polling predicted he would lose. [WaPost's Monkey Cage]
-Brendan Nyhan and Jason Reifler find fact checking can deter false or misleading statements by elected officials. [Politico]
-Parents find that being a parent is more rewarding, and exhausting, than paid work. [Pew Research]
-D'Vera Cohn rounds up ways to access government data during the shutdown. [Pew Research's Fact Tank]