1. New Paintings by Ivan Morley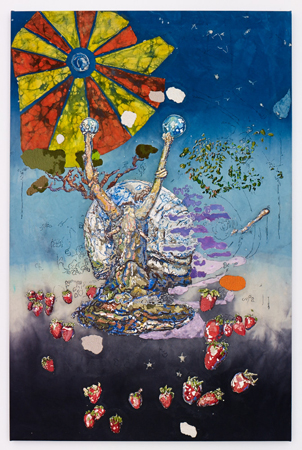 Tehachepi (sic), 2013, Oil, batik, thread, acrylic & UV varnish on canvas, 72.5 x 47.5 inches (184.2 x 120.7 cm)
Ivan Morley's paintings are rich, complex, yet whimsical and innocent. The narratives of the paintings are obviously full of subtext, or what the artist calls "states of temporal confusion." They also somehow recall the fine details and spiritual qualities of Asian scroll paintings.

Most of the pieces in the show look like comic book panels, giving an otherworldly impression. Time and space, heaven and earth float, meld, dance in Morley' second solo show in Los Angeles.
The show runs through October 12.
Richard Telles Fine Art, 7380 Beverly Blvd, Los Angeles, CA, 90036
2. Things That Cannot Be Seen Any Other Way: The Art of Manuel Mendive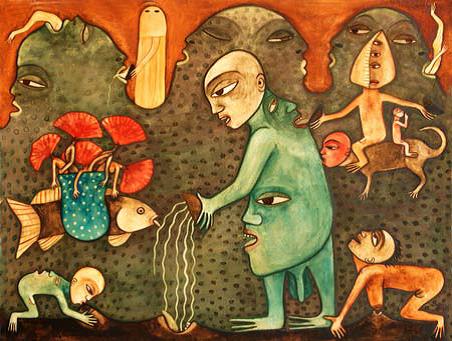 Mito de la Creacion (Myth of Creation), 1985. Mixed media on heavy paper. Courtesy of Cernuda Arte.

Cuban artist Manuel Mendive's work is deeply rooted in spirituality and magic. There is a deep sense of transformation occurring in the paintings, providing a great sense of awe. The paintings seemed to say we are connected to something higher, bigger, brighter than ourselves.

Mendive's career spans 50 years, yet most Americans may never have the chance to see the depth and breadth of his work. This exhibition gives the tip of a huge creative iceberg.
The show runs through October 20.
California African American Museum, 600 State Dr, Exposition Park, Los Angeles, CA, 90037
3.George Herms' EMERGIO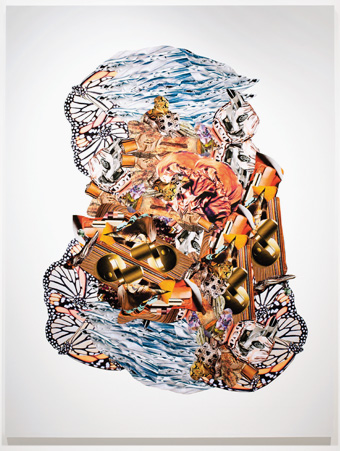 ZEITGEIST BANDWAGON, 2013, Collage on panel, 72 x 55 inches, 183 x 140 cm

George Herms has three fellowships from the National Endowment for the Arts; a John Simon Guggenheim Fellowship in Sculpture and the Prix de Rome Fellowship in Sculpture from the American Academy in Rome. He was also a visiting scholar at the Getty Research Institute. With this kind of pedigree, a solo show of his work better be spectacular--and it is!
This exhibition includes work from the last 30 years. These striking and colorful pieces are indeed the work of a master. Known for his collages, his work on panel and sculptures made of found objects are intricate, overwhelming, breathtaking.
The show runs until October 26.
OHWOW, 937 N. La Cienega Blvd, Los Angeles CA, 90069