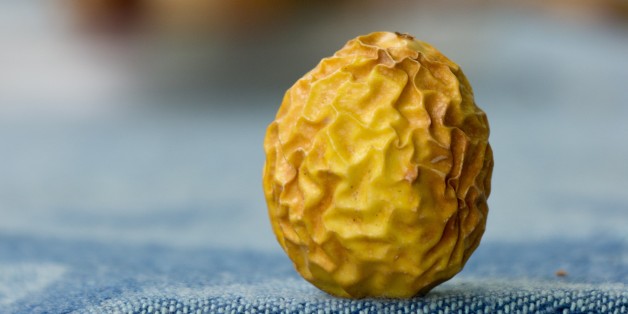 Though few fruit are actually endemic to Hawaii, exotic fruit now grows in abundance here, and you should not miss the opportunity to taste them in all their glorious variations.
One of Hawaii's most popular exotic fruits is the lilikoi, or yellow passionfruit. Lilikois are extremely tart yet incredibly sweet, and so while only the bold tongue will eat them raw, when added to your favorite drink, jam or dessert, lilikoi make everything better.
100g (roughly ½ cup) of the fruit's pulp packs 50% of your daily recommended value of Vitamin C, 25% of your Vitamin A, and 10g of dietary fiber. This is impressive considering lilikoi are very small, and that the smaller, browner and more wrinkled they come, the better they taste. But beware -- the reason they are so good likely has something to do with how much sugar they carry. Lilikoi have about 11g of sugar per serving, so don't eat six a day.

The most straightforward way to eat a lilikoi is to cut it in half, scoop out its seeds (which are small but very hard) and dig into the pulp.
The most fun way is to check out these restaurants and stores that have made some of the best lilikoi inventions Hawaii has to offer. Here's how and where people are eating lilikoi in Hawaii:
In a Lilikoi Malasada from Punalu'u Bake Shop

As Lilikoi Butter from North Shore Goodies

For an afternoon indulgence with a Lilikoi Cheescake Cupcake from Hawaiian Cheesecakes

In a Lilikoi Mojito at Tsukiji Fish Market & Restaurant

As carmelized bliss in a Lilikoi Brulee at Alan Wong's Restaurant

Spread on toast with Lilikoi Cream Cheese from Made in Hawaii

Cooling off with a scoop of Lilikoi Ice Cream from Palaa Kai Bakery

And if you really get inspired and want to create your own lilikoi dish, start out with this recipe from the Little Ferarro Kitchen for lilikoi bars. Enjoy!