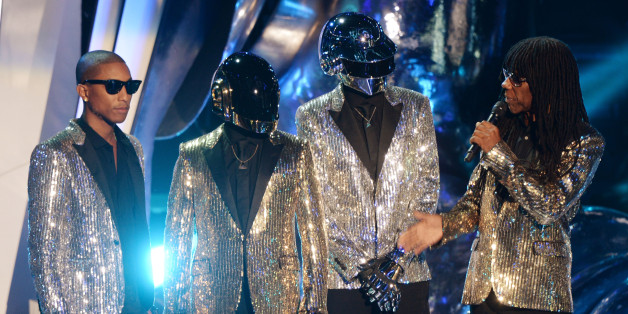 Sunday's MTV Video Music Awards didn't fulfill one big promise: Daft Punk's supposed VMA performance -- which would have followed a fumbled booking and cancellation on the "Colbert Report" -- never happened.
The French electro demi-gods were supposed to perform on Colbert's show earlier in August, but cancelled because they had also been booked to appear at the Barclays Center. Though they didn't perform, they were joined by Pharrell Williams and Nile Rodgers (who appear on "Get Lucky") to present the award for Best Female Video to Taylor Swift for "I Knew You Were Trouble."
The Huffington Post reached out to reps for MTV and Daft Punk and will update this post if comment is received. A 1-minute preview of a video for "Lose Yourself to Dance," another song off "Random Access Memories" which features Nile Rodgers and Pharrell, did debut:
Daft Punk aside, MTV pulled out all the stops in terms of booking performers for this year's One Direction-hosted VMAs. The network brought Katy Perry, Lady Gaga, Robin Thicke, Miley Cyrus, Macklemore, Kanye West and more to Brooklyn. Perry performed from a "secret" location that was not disclosed prior to showtime, and Timberlake joined in an *NSYNC reunion that celebrated his Michael Jackson Vanguard Award win. Live updates from the night are available below the following gallery.
08/25/2013 11:26 PM EDT
That's It For The VMAs
The 2013 MTV VMAs were something else. Thanks for joining!
08/25/2013 11:26 PM EDT
No, Boo!
08/25/2013 11:20 PM EDT
Here's Her Roar
Katy Perry performed "Roar" for the first time, and it was glorious.
08/25/2013 11:18 PM EDT
The Video Of The Year Winner Is ...
08/25/2013 11:15 PM EDT
Joseph Gordon-Levitt Announces The MTV VMA For Video Of The Year
With a silly voice.
08/25/2013 11:12 PM EDT
In Case You Blinked During The VMAs
08/25/2013 11:08 PM EDT
So True
08/25/2013 11:07 PM EDT
lolz
08/25/2013 11:07 PM EDT
Because This Bruno Mars Performance Is Boring
Let's remember this:
08/25/2013 11:00 PM EDT
Lena Dunham Checks In