Fashionology, a Beverly Hills-based clothing boutique, has created an inspiring new concept in children's clothing. With their innovative technology and variety of accessories, they turn the design process over to the child, allowing them to test the limits of their imaginations and bring their fashion dreams to life. Recently, the women behind this whimsical concept, Elizabeth Wiatt and Jamie Tisch, put that passion for making dreams come true to work for a very special group of children who live much of their life in darkness and have forgotten how to dream.

On November 19, Fashionology hosted an in-store fundraiser for H.E.A.R.T. - Helping Ease Abuse-Related Trauma - a group I have been proud to work with for many years now. H.E.A.R.T. members include approximately 100 Los Angeles area women that have committed their resources to women and children who have been victims of child abuse, sexual assault, or domestic violence. These victims need help to make it through their trauma and to rebuild their lives.

During this fundraiser, dozens of enthusiastic mothers and daughters filled Fashionology and made their own one-of-a-kind clothing. The store donated a portion of the afternoon's proceeds to H.E.A.R.T. as well as put together special gift bags with clothes and stuffed animals that guests could buy and have given to a girl in need during the holiday season. H.E.A.R.T. board member and actress Shiva Rose and her daughter Collette McDermott were on hand. Also in attendance were other H.E.A.R.T. board members, supporters and friends like Eve Gerber, and her daughter Georgia, Linda Rubin, Gillian Wynn, and Gelila Puck. Jamie also attended with Elizabeth and her daughters Caroline and Isabel.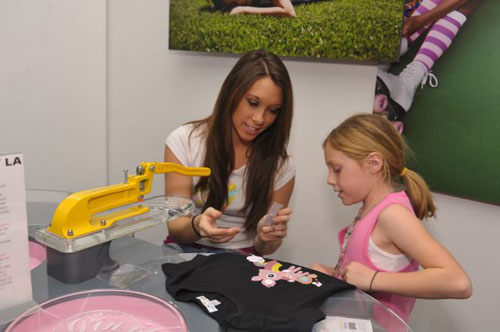 Georgia Gerber, daughter of H.E.A.R.T. founder Eve Somer Gerber, works on her design skills at Fashionology.

The color and energy inside Fashionology, a store built on a theme of encouraging young girls to explore their own self-expression, was the perfect backdrop for an event intended to build up resources and support for girls who have been so tortured that they stop believing in their own future or their own self-worth.

When Elizabeth and Jamie first discussed having an event at their store, we knew it would be especially fitting as the holidays approach. As I looked at all the fortunate children in my life, particularly my own daughter Anna and her friends, I knew I wanted to do something special for the children H.E.A.R.T. reaches out to. The gift bags the store is selling will be so welcome by moms who may have no other gift to give their little girl. And the money we raised will help H.E.A.R.T. provide so many children and families with those little extras that can make a huge difference in what are often very bleak circumstances.

H.E.A.R.T. was founded in 2003 to support the work of Dr. Astrid Heppenstall Heger and the Violence Intervention Program (VIP). Through its clinics at LAC+USC Medical Center and its nonprofit mental health center, VIP sees close to 20,000 victims of interpersonal violence each year in Los Angeles, from newborns to seniors including a large population of foster children or children at-risk of being removed from their homes. Over 25 years, Heger and her team have pioneered forensic, medical, and mental health interventions for abuse victims that have set the standards of care and saved countless children from re-abuse and a life with no hope.

H.E.A.R.T. was created to provide those things that traditional sources of funding will not cover. VIP works with extremely low income individuals and families. While the medical and mental health services are covered by public entitlement funds, there is no money for things like clean clothes and underwear for sexual assault victims who have to surrender their torn, tattered garments as evidence.

H.E.A.R.T. tries to "make a thoughtful impact on the lives of abused children and the moms who strive to keep them safe." This has meant H.E.A.R.T. has intervened in a variety of surprising ways. For instance, H.E.A.R.T. makes sure that every child who comes into the VIP clinic to be examined for physical or sexual assault is given a stuffed animal. That's around 8,000 stuffed animals each year. Doctors and nurses report that this simple item is incredibly powerful. It gives frightened children something to hold onto, a comforting presence with whom to be sad, mad, happy, angry or scared.

At the other end of the spectrum, H.E.A.R.T. recently supported a young mother as she escaped from an abusive relationship, fought to regain custody of her children and went to nursing school to give herself a chance at a career and a new life for herself and her children.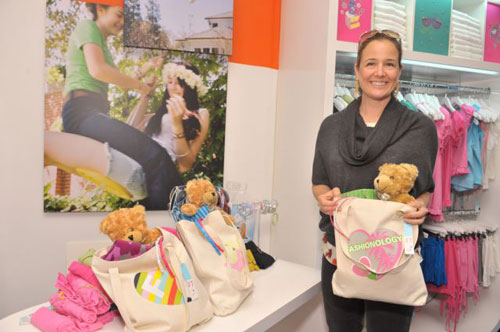 Store Co-Owner Elizabeth Wiatt shows off the special Fashionology bag guests could purchase as a holiday gift for a child abuse victim.

The other H.E.A.R.T. board members and I are incredibly grateful to Elizabeth and Jamie and their team at Fashionology for opening their store and their hearts to so many children and organizing such a successful event. We hope that more people will realize how little effort it can take to dramatically improve the life of a woman or a child, and will take a few minutes to learn what they can do today to help.

To test your fashion design skills visit www.fashionology.com. To learn more about H.E.A.R.T. and their work with the Violence Intervention Program visit www.heartvip.org.