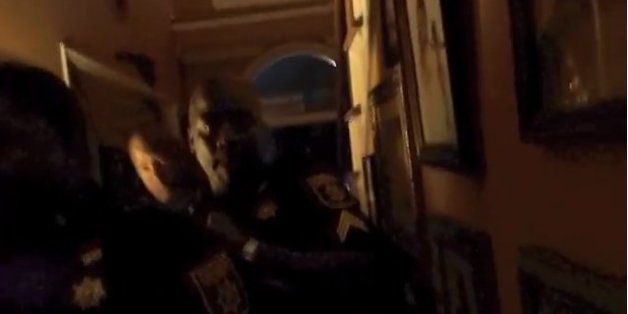 Amid allegations of police brutality in the wake of a video posted to YouTube that shows officers storming a home and threatening the residents on July 26, Georgia's DeKalb County Sheriff's office said it's launching an investigation into the incident.
The 19-minute video was taken by 23-year-old Donovan Hall, who said officers arrived at his home at 1:30 a.m. with an arrest warrant for Hall's mother, Natania Griffin, who was 15 days late in paying a $1,000 civil fine. Hall said he waited nearly an hour before reluctantly letting the officers in, claiming he feared for his family's safety.
Throughout the video, Hall and his brother, Roger Devon Reuben, plead with officers as they are cuffed and threatened with violence. The family claims that officers pistol-whipped the brothers and kicked them, and that one officer stood on Hall's head. The alleged violence can't be seen in the video, but the audio is disturbing.
"I felt so helpless and so afraid," Hall told the HuffPost Thursday.
Sheriff Thomas Brown, who spoke to HuffPost Crime on Friday, said he was "disgusted" by the language of his officers, but said at no point did any officers hit the men.
"We did not hit anybody with a pistol," Brown said. "We did not place our foot on anybody's head for no apparent reason, as I've heard in some media reports." (Story continues below)
WARNING: GRAPHIC VIDEO
Brown also said he does not believe his officers threatened the family with physical harm.
"The verbal comments by the officers I am very concerned with," Brown told HuffPost. "But I do not characterize their language as a threat, because I think [the officers] were just angry and had an adrenaline rush."
In the video, an officer can be heard shouting: "Say something else, I'm [going to] Tase your ass!" and "I wish I could cane y'all."
"In this particular case [my officers] did not cross a line, they just got verbally out of hand," Brown said.
Brown said Griffin should have answered the door immediately when police arrived, and made the situation worse by making the officers wait.
"If she would have acted like a parent and set by example for her children how to cooperate with law enforcement, it would have been a much better scenario," he said.
The DeKalb County Sheriff's Office has launched an internal investigation into the matter.
"We're going to look at every officer that was involved, starting with the supervisor that was there," Brown said.
While Brown said he doesn't know what if any disciplinary action will be taken, all officers involved will undergo sensitivity training.
Along with an internal investigation, Brown said he will also reexamine the practice for delivering low-level warrants late in the evening. "There's an issue with that as well, dealing with a warrant at that time of day," he said.
Brown said if the investigation reveals police misconduct, he will handle it appropriately.
"If you Google me or talk to some local media, you'll see I don't tolerate B.S. from my people," he said. "I hold them to a very high standard."