Through 2012, the unemployment rate for former service members who are veterans of the Iraq and Afghanistan wars -- about 2.6 million men and women -- was 9.9 percent, according to a March 2013 release from the Bureau of Labor Statistics, in comparison with a 7.7 percent unemployment for the general U.S. population. For female veterans, who constitute 17 percent of all post-9/11 veterans, the unemployment rate was 12.5 percent in 2012. Overall, this means that there remain more than 200,000 Iraq and Afghanistan veterans who are considered unemployed.
As alarming as those statistics may be, I was encouraged and honored to meet Ashley Parker-Roman, a veteran of the U.S. Navy, after four years of service. Now a senior at Drexel University, she is part of an interesting program pioneered by the NYSE -- the NYSE Veteran Associate Program. It's a 10-week paid program that recruits veterans from across the United States -- including numerous veteran organizations and schools, as full-time employees. Last year, they had 15 interns, and this year they have 28 from all four branches of the military chosen from over 100 applicants. This year's cohort includes three interns from the U.S. Navy, one from the U.S. Marines, and the remainder evenly split between the Army and the Air Force.
After meeting the interns, I was excited to speak more with Ashley who heard about the program through LinkedIn. She was working this summer in the Communications Department at the NYSE. Dynamic and charismatic, she entered the U.S. Navy when she was 18 years old and spent four years specializing in serving on Landing Helicopter Doc (LHD) ships -- essentially a floating city of 3,000 people. Her role was to guide helicopters into the landing area on the ship. This was a high risk job that taught her to be poised under stress and the importance of responsibility. I could sense that when we met as well as a particular command of business and leadership that impressed me.
SM: What is the relationship between the skills you learned in the military and being in business?
APR: Problem solving, leadership, resilience, adaptability, dependability, poise under pressure.
SM: How did you learn about the NYSE Veterans Associate Program?
APR: A friend found out and I applied through LinkedIn, and thought it was a great opportunity to learn about the financial industry.
SM: What has your experience been like in the program?
APR: My first two weeks were spent in an executive education series that introduced us to each department. I found a welcoming culture, and I tried to be a 'sponge' for all the information around me. Twenty-eight vets in total were assigned to different departments. It's been a great opportunity to get to know each other and we all bonded over our military experience. A lot of folks can't understand, but this is a universal connection based on what it's like to be in the military -- being away from home for months, transitioning from military to civilian world, etc. It's a totally unique experience.

SM: What has been the highlight of your time in the program?
APR: So far, it has been the opportunity to experience communication on a corporate level, which has been a welcome challenge and learning experience. No one day is the same here.
I smiled as Ashley gave me a business card -- one that she made at her own expense -- and I knew she had a bright future in business. NYSE's program has been highly successful. Out of the 15 interns that graduated last year, six are working full time at the NYSE today and three others are at major Wall Street firms such as Goldman Sachs and AIG; two went on to work in government; and one is at the White House. Coincidentally, in 2011, President Obama and the White House announced a new initiative, a challenge to the private sector to hire or train 100,000 unemployed veterans or their spouses by the end of 2013. This past April, First Lady Michelle Obama announced that American businesses have nearly tripled the goal and have committed to hire or train another 435,000 over the next five years. In fact, the private sector has already hired or trained 290,000 veterans and military spouses.
Although we still have lots of work to do to decrease the overall unemployment rate in the U.S., it means a great deal to help those who have served our country with a smooth transition back into civilian life. What a beautiful, pioneering program the NYSE has created, and hopefully, it will be replicated among all of its 2,500 listed member companies.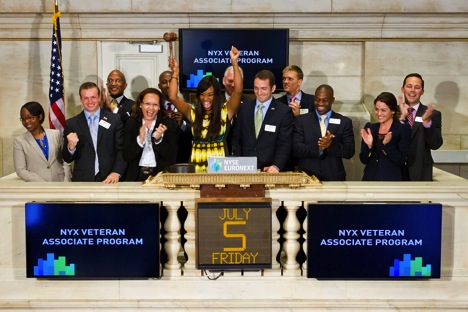 Ashley Parker-Roman and other NYX Veteran Associate Program members at the bell ringing