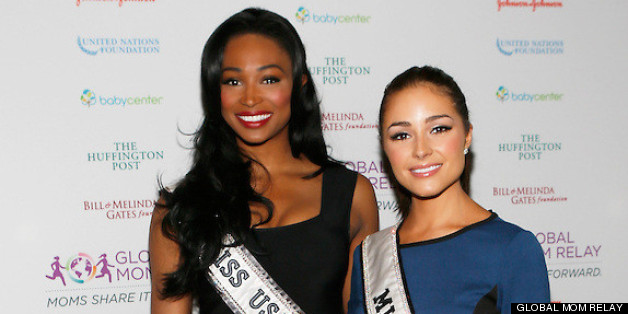 This post is part of the Global Mom Relay. Every time you share this blog, $5 will go to women and girls around the world. Scroll to the bottom to find out more.
We are honored to be part of something that's encouraging moms to have a bigger impact on the world in the same way they've had an impact on their children's lives. As you'll see from our interview, the examples and guidance of our own mothers have been hugely important in our lives. Spreading the influence mothers have over one life, to every woman out there, to every child out there, is real power.
As Nana says, "I am not a mom yet, but I am a global daughter." We both feel that way! Our families and experiences now as Miss Universe and Miss USA, are instilling within us a global outlook. That's what the Global Mom Relay speaks to -- women and men and children coming together in support of solutions for moms and kids that will benefit us all.
Please watch our video interview and share it forward to help unlock donations in support of moms and babies everywhere. We want every child to have a chance at some of the wonderful opportunities we've had. We want every child to have a shot at life.
Each time you watch the video, share this Global Mom Relay post on Facebook, Twitter, or Email, or donate $5 or more through clicking on the above graphic, a $5 donation (up to $500,000) will be donated by Johnson & Johnson and the Bill & Melinda Gates Foundation to Shot@Life. $5 protects a child from polio and measles for his/her lifetime. Funds go to WHO, UNICEF and the GAVI Alliance who distribute them to the programs and countries with the greatest need at the time. Join us by sharing it forward and unlock the potential for women and children around the globe. For more information, visit www.unfoundation.org/globalmomrelay. The United Nations Foundation, Johnson & Johnson, BabyCenter, The Huffington Post, and the Bill & Melinda Gates Foundation created the Global Mom Relay, a first-of-its-kind virtual relay with a goal of improving the lives of women and children around the globe.