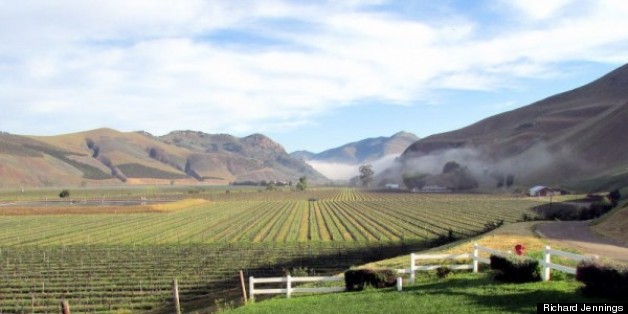 Morning fog dissipating at Bien Nacido Vineyard in Santa Maria Valley
Earlier this month, I spent five days in Santa Barbara County visiting wineries, talking with winemakers and touring vineyards, including very impressive new plantings. I hadn't visited the region for a couple years and my interest had been piqued by great Santa Barbara wines I had tasted at the In Pursuit of Balance tastings I recently wrote about here and the Sta. Rita Hills appellation tasting I summarized here.
This Santa Barbara immersion confirmed for me what I've been suspecting for a few years now: this region is making some of California's most interesting, compelling and balanced wines. Growers and winemakers here are earnestly delving into the varied terroirs of this region, trying to understand and appreciate their impact on their wines in great depth. Their work is making it possible to begin to discern very different qualities in wines from not only the deservedly celebrated Sta. Rita Hills appellation, but also from lesser known subregions in the area that also produce great wines. These include Santa Maria Valley, with its cool temperatures, fog and constant ocean breezes that favor Chardonnay and Pinot Noir; the hillsides of Ballard Canyon, where distinctive and flavorful Syrah truly excels; and the warm and northerly Happy Canyon, where both Syrah and Bordeaux blend wines show tremendous promise.
Steep Star Lane Vineyard in Happy Canyon
To give you a little of the flavor for what's happening in Santa Barbara County, I want to highlight two producers in particular.
The first, Goodland Wines, is a brand new project by three winemakers and a leading viticulturalist. Their limited production and reasonably priced wines are aimed above all at highlighting Santa Barbara's distinctive terroirs.
The second, Dierberg/Star Lane, is a project that was launched in 1997 with major investments in vineyard planting and top quality winemaking facilities that have facilitated the creation of some stunning wines from three of the County's subregions.
Goodland's Matt Dees and Ruben Solorzano
The principals behind Goodland are four men whose credentials and track records alone would suggest this is a project worthy a wine lover's attention. For example, Matt Dees is the winemaker for Jonata, which produces exceptional, complex wines that sell for very high prices, while partner Ruben Solorzano is a premier viticulturalist, known to some in the region as the "grape whisperer." The other two principals are Dave Potter, assistant winemaker at Fess Parker Winery in Santa Barbara who has run his own small label, Municipal Winemakers, for several years; and Chris Snowden of the family behind Snowden Wines, who has worked both as a cellar master for Frazier Winery and as head of sales for Snowden.
The Goodland wines are labeled with the appellation or subregion in huge letters; the wine varietal doesn't appear on the front label and the "Goodland" name is listed in much smaller type. Their model is that of France, where, the appellation -- such as Burgundy, or Châteauneuf-du-Pape -- is what appears on the label, rather than the grape variety, and one simply knows that red wine in Burgundy is Pinot Noir or that Châteauneuf is normally a blend of red grapes typically dominated by Grenache. The winemaking -- which includes picking for good acidities rather than maximum ripeness, long cold soaks that help draw out all the aromatics, and primarily neutral oak -- is all aimed at letting the terroir of the place where the grapes were grown shine through.


Goodland labels, highlighting their appellations
The Goodland Sta. Rita Hills white, for example, is a Chardonnay -- one of the grapes that does extremely well in the cool Sta. Rita Hills climate, where it slowly ripens while retaining very high acidity. This one was more reminiscent of a premier cru Chablis from a cool year than any California Chardonnay I've had in recent memory, due to its high acidity and sense of salinity. The Sta. Rita Hills red, on the other hand, is Pinot Noir, the other Burgundian grape for which this appellation has become renowned. It has a complex nose of ripe strawberry, cherry and tart raspberry, and a delicious, focused palate showing lots of minerality and strong acidity.
The Happy Canyon Red, by contrast, is actually Cabernet Sauvignon -- one of the Bordeaux varieties that does particularly well on the loamy, warm hillsides of Happy Canyon. This is a Cabernet that is a welcome throwback to the great, moderately priced California Cabernets of the 1960s and 1970s, with good acidity, poise and a sense of that loaminess on the nose and on the palate. It is selling for $40. My other favorite wine of the lineup is the Ballard Canyon red, from a subregion not yet officially recognized as an appellation but where Syrah does particularly well. This Syrah, which I rated 94 points, is terrifically complex and powerful, featuring roasted fig and pepper among other flavors, with good acidity. It is priced at $35.
Goodland is selling their wines through their mailing list, for which you can register on their website here. This list is sure to be closed soon as the quality and QPR of these wines is just too outstanding for them not to be snapped up quickly by savvy buyers.
My favorite Syrah of the entire trip, and one of the best I've tasted in California in recent years, was the 2009 Dierberg from grapes grown in the Santa Ynez Valley appellation. This one exhibits roasted plum, black fruit, black pepper and violets with good acidity and a long finish. I rated it 95 points and it sells for $34.
Dierberg is owned by Jim and Mary Dierberg. They employed a good part of their fortune earned in the banking industry to buy and plant extensive vineyards -- with a variety of clonal material, rootstocks, planting methods and exposures -- in Santa Maria Valley, Sta. Rita Hills and Happy Canyon starting in 1997. They also built one of the largest and most well-equipped wineries in the region.
Dierberg winemaker Andy Alba
The talented winemaker there is Andy Alba, who has been with the project since 2001, having been put in charge not only of winemaking but also viticultural operations in 2010. Andy, who studied biology at U.C. San Diego, initially worked as a chemist in the biotech industry. His interest in chemistry led him into wine analytics, and he remains something of a mad scientist and constant experimenter.
Andy likens his work to that of a sculptor, seeing the grape harvest as akin to "cleaving a monolith" that he then "chips away at, forming it into" its ultimate shape. He also sees himself as adapting his winemaking to highlight the terroir and expression of each of Dierberg's vineyards and sites.
The results -- both of the Dierbergs' extensive and thoughtful plantings and of the work of Andy and his team -- are truly impressive. Besides the great Syrah -- Andy's favorite varietal to drink, especially when blended with a little Viognier -- the Sta. Rita Hills Pinot Noir is powerful and brooding while the Santa Maria Valley Pinots are aromatic and balanced. Even better, for me, are the Bordeaux varieties made under the Star Lane Vineyard label.
The Star Lane Cabernet includes small amounts of other Bordeaux varieties -- Cabernet Franc and Merlot -- and is wonderfully aromatic and complex, as is the Astral, a blend of Cabernet Sauvignon and Cabernet Franc. The Cabernet is priced at only $44, while the Astral is substantially more, at $80.
For the complete tasting notes on the wines from Goodland and Dierberg/Star Lane, see the full report on my blog here.