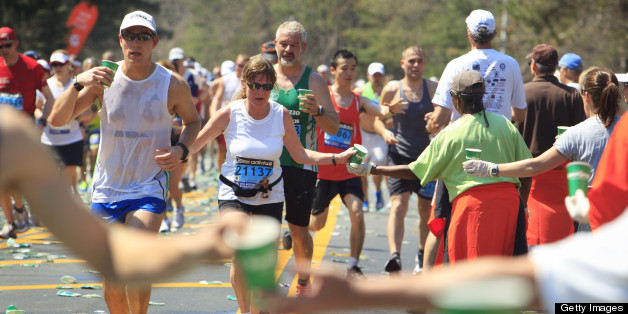 She runs the same path that the feet of legends once graced. Carrying what was passed to her. And we, the great cloud of witnesses, we roar, both remembering and hoping. Watching the time, knowing that records will be broken, proud that our children will break them.

And we rise. We all rise and cheer and as our children get ready to move ahead, to take the lead. "Wooooo! Wooooo! Wooooo!"

We watch as we have every year. And they run and jump and throw and vault and occasionally -- they fall. Tripped by the foot of another or by their own missteps, they fall to the ground of this hallowed track. Be they Olympic star or teenage unknown, we all gasp.

The runner has a choice. Stay down and grieve what may have been or get up and keep running.

The Penn Relays -- which bless Franklin Field every last weekend of April -- have replayed this scene an innumerable amount of times over the course of its 119 years. The runner who has looked forward to this race all season long is only asked to move the baton 100 or perhaps 400 meters and pass it along to their brother or sister. But each year, someone's path is not run unencumbered, and they trip and fall down in front of the thousands of spectators in attendance.

And I sit in the metal stands with eyes that cannot help but well up, unsure whether they will be sad or happy tears. Sad if she stays down and is forced to carry that burden for the entire bus or plane ride home. But perhaps they will be happy tears if she gets up and keeps running amidst the pain and amidst the setbacks.

She keeps running.

For me this year, The Penn Relays are arriving right on time. Sports in a sense can provide a kind of escape like other forms of entertainment. But at their best they can serve a greater purpose than simple distraction or a fun pastime. Sports, or more specifically athletes can provide inspiration. They can bring hope. That is what The Relays will be this week for me.

Seeing so many women and men running, it will be difficult not to think of the tragedy that occurred at this year's Boston Marathon. One of the images from that painful afternoon that has stayed with me is of an older runner who was wearing an orange top and black shorts who immediately after the first explosion, fell to the ground just a few steps before the finish line. Our nation fell down with him as we, whether in Boston or not, also felt the impact of the terrifying blast.

It's not easy getting back up after being knocked down like that. But we have.

To me this is the spirit of The Penn Relays. It's not the speed which inspires me the most each year, it's the heart that I see displayed. Seeing a 400 meter runner catch up with and race around a competitor will get us all Wooing in unison. And dashing towards a meet, U.S. or World Record will certainly bring out the shaking heads and the "Did you see that" refrains from the old men in the stands with the stopwatches. But it takes the heart of an athlete who gets up after falling, who still gives their best even when they are in last place, who can draw from wells previously unknown and muster the courage and energy necessary to will their tired legs back into the race, to truly move and inspire the crowd.

This is what has brought me back year after year ever since my dad first brought me as child. Eventually I had my own chance to run in the relays. And I remember feeling a terror that was nearly paralyzing. All of our track meets back home in Baltimore had 30-ish people watching. At The Relays we were running in front of 50,000. Likewise, having been to the famous Philadelphia meet, I knew just how fast the competition was going to be. Terror.
But with the help of great coaches and brave teammates, I made it to the track and ran the third leg successfully getting the baton to Terrance who finished the race for us.
Running through terror takes courage. It takes teammates who will run along side of you. It takes an awareness of the great cloud of witnesses who are cheering us along. And it takes a runner who will keep running even after they fall. I am proud of not only our running community but our entire nation who has kept running after we were tripped up in Boston. Terror has not stopped The Penn Relays from happening. It won't stop the Boston Marathon from running again next year. And it won't paralyze us with fear as a nation or world. We must keep running. Our children are waiting for the baton.