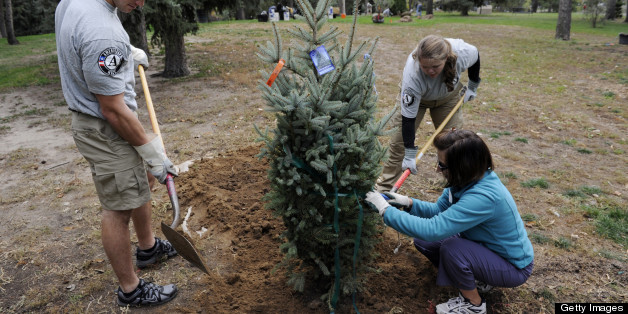 If we as Americans ever doubted our capacity to stand up for each
other, the events of last week put those fears to rest. Who can
forget the stories of bystanders in Boston tearing apart barricades to
reach the wounded, or first responders in Texas charging into the
flames of the fertilizer plant. There is something special about the
way ordinary citizens become heroes in moments of crisis.
As a former Navy pilot, I felt the kind of kinship with every American
that I recall from my days in uniform. It is that love of our
country, and of each other, that makes us risk everything for those we
do not even know. Imagine if we could harness this selflessness to
give every American the chance to serve their country, and make every
American community stronger in the process.
This week marks the four-year anniversary of the Serve America Act, an
effort to dramatically expand opportunities for Americans to dedicate
a year of their lives to national service programs like AmeriCorps.
The act was a milestone, an investment in our future that passed with
overwhelming bipartisan support. Yet it has remained woefully
underfunded, and every year since its passage has seen another attempt
to kill AmeriCorps entirely. Today, the Serve America Act represents a
promise unfulfilled.
Outside of the military, AmeriCorps is our best chance for uniting
Americans of all backgrounds in common cause, and for capturing that
spirit of selfless service we saw so vividly last week. Yet there are
not nearly enough positions available for all those who want to serve.
For the third year in a row, more than 500,000 applications were
received for roughly 80,000 positions. Instead of adding slots,
Washington has cut them time after time.
Every day, in thousands of communities across the nation, AmeriCorps
members serve and sacrifice alongside their fellow citizens. They do
not do it for the money -- they make less than $15,000 a year, a
fraction of what I made in the Navy. They do it because they love
their country and have answered the call. In that sense, they are no
different from the young men and women I led overseas.
Imagine what we could accomplish if an army of Americans spent the
next year serving in our schools, our hospitals, our communities
struggling with poverty or disaster. In an era of budget cuts and
belt-tightening, a legion of trained AmeriCorps members can make all
the difference in overcrowded classrooms, understaffed health clinics,
and disaster relief efforts. And at a time when so many young
Americans are graduating without a job, imagine how well a year of
service would prepare them with the skills and experience employers
are looking for.
In AmeriCorps, we have a way to harness that ethic of service that is
so much a part of the American character. We do not need to wait for
moments of crisis to see it on display. If any good can come from the
tragedies of the past week, it is the realization that, despite the
rancor that defines our politics, Americans still stand up for each
other like no other people on earth.