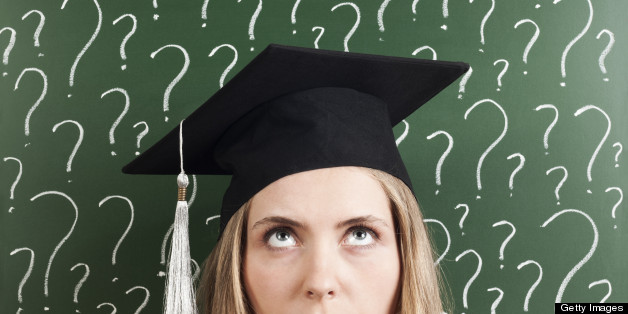 Half of all high school seniors have no idea how much money they'll need to borrow to pay for college, a new survey from the Credit Union National Association has found.
The survey asked 847 students ages 17 and 18 via the Internet if they were planning to take out student loans, and if so, how much they expected their total debt to be upon graduating from college.
Half of respondents said they didn't know how much they would owe. Of those who did have an idea about their expected debt load, 22 percent expected to owe between $11,000 to $50,000, and 15 percent expected to take on $10,000 in debt or less.
The class of 2011 came out of school with an average student debt load of $26,600, according to the Project on Student Debt.
The survey also found that the majority of students -- 60 percent -- didn't know how many loans they'd need to take out to pay for their education. Only 13 percent believed they'd be able to graduate with a single loan, while 25 percent of respondents thought they'd need to take out two or more. A large majority of students, 83 percent, said they didn't now the rates they'd be expected to pay on their loans.
Just one out of five respondents said their parents will pay for their tuition outright, suggesting borrowing is certainly the new norm. Last year, a Pew Research Center analysis found student debt had reached 1 in 5 households, a record number. A report from the Fair Isaac Corp. called the current student debt trends "simply unsustainable."
But students still think college will be worth it, with 70 percent of students polled by CUNA saying they are confident they will receive a high-paying job upon graduating. In the current economy, however, the reality is a bit more grim.
Recent college graduates faced an average unemployment rate of 8.8 percent from March 2012 through February 2013, according to the Economic Policy Institute, and an underemployment rate of 18.3 percent. A January report from the Center for College Affordability and Productivity found nearly half of all college graduates are working jobs that don't require a degree.