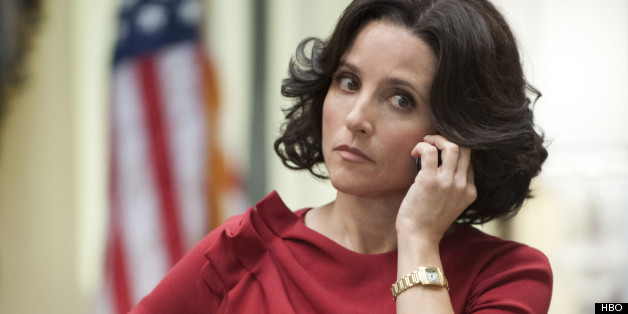 Note: Do not read on if you have not yet seen Season 2, Episode 2 of HBO's "Veep," titled "Signals."
If last week's premiere was about making us feel great to be a part of Selina's inner circle, this week's episode was about lassoing that positivity and throwing it into a pit of mud and poo. The Veep's office got dark, mean, and, most of all, polit-i-cal.
The episode is structured around a National Security meeting (about the hostage situation) that Selina desperately wants to attend. But then: wrench in plan! The President requests that she represent the White House at a pig roast, unappealingly named "U.S. Hay!" by Jonah, king of copy. Unsurprisingly, she is not eager to "mix with the hicks."
Meanwhile, several smaller and more unpleasant plotlines sprout. There were, in fact, so many different story linesthat I find it hard to seamlessly weave them together into a tapestry of prose. So, I'll summarize here:
Mike buys a hideous carrot-hued jeep creature and reveals that he is over $100,000 in debt, so what's a few more large? He also has an alcohol "hitch," which solidifies his role as the saddest sack of the bunch.
Gary reveals Selina's secret stash of signals to his beau Dana during pillow talk, resulting in a leaked story and major (but not unexpected) embarrassment for the team.
Amy's father is still in the hospital, seemingly doing well, but she uses him as an excuse for dodging responsibilities.
Dan starts to network-stalk Kent Davison (Gary Cole), eventually following him to his Pilates studio. There, they use a stretch-y machine (responsible for Kent's "steel-like" core), which results in some upper-thigh-and-junk-shots which, to be honest, were not too bad on the ole peepers.
The dominant B-story, however, involves Selina's daughter Katherine, who writes an essay about a film clearly critical of Israeli aggression in the West Bank settlement -- an essay which is leaked to a blog and which requires major damage control. While Selina maintained her brusque demeanor, I was proud of her for holding all calls and dealing with her daughter like a concerned mother would. I'm not sappy -- it was a welcome moment of kindness in a show that is so relentlessly cruel.*
Speaking of which, there is one central issue with this episode, which is an issue that many critics have expressed before me. The writers have a tendency to focus on pith and biting one-liners at the expense of character development. I differ from these critics in that I don't actually mind that tendency as long as the episodes provide a quality 30 minutes of good-humored distraction. This week, however, sacrificed character and humanity, opting for foulness and very, very minimally veiled cynicism.
Main Takeaways:
Selina eating a pork sandwich standing in front of a pig on a spit while addressing The Jews of America. Admittedly television gold.
Debbie Does Damascus
'daughterboarding'
Selina's college boyfriend was one quarter Cherokee
Amy Whitehouse
Dan Egan's prime mention in POLITICO's Playbook
*Most notably when the Mr. Burns-esque senator tells his aide he is nothing more than a condom filled with fire ants and to "shut your mouth, fat girl."
"Veep" airs Sundays at 10 p.m. ET on HBO.