How could you not love a book that starts "singing" David Bowie's "Changes" ("This is the story of my "ch..ch..changes, which took me from insanity to clarity")? In her book iWant: My Journey from Addiction and Overconsumption to a Simpler, Honest Life
(Health Communications, Inc., 2009), the television journalist and fiery host of Issues with Jane Velez-Mitchell (HLN) vividly details the adventure of her life and her turbulent struggle with addiction. Forced to be a debutant--her father in a hounds tooth jacket and cravat in the Hamptons--her message is clear: your ethnic background, your income, not even your sexuality will keep addiction from being part of your family. It's not just about drinking, or "partying" too much -- addiction can affect your entire world.
Part memoir, part how-to book, peppered with behind-the-scenes of TV journalism, Velez courageously chronicles her quest from "insanity to clarity, from egocentricity to altruism, from alcoholism to activism." She mixes memoirs with self-help tips, a hybrid that she balances with dexterity. Sacrificing her privacy, she explains the "disease" that is addiction to those who may be starting to accept that they are addicts, to those who are floundering in the first stages, and to family and friends who may be ready to tear their own hair out over the frustration of being manipulated by their addict family member one more time.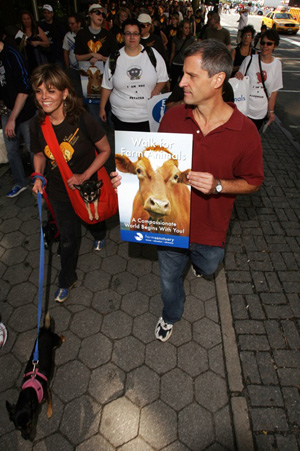 Interwoven in these 12-step teachings is her story, the life of the youngest child of an eclectic couple: of an Irish father and a dancing Puerto Rican mother. There are descriptions of herself as irreverent, yes, even bratty, and pictures of her as a tiny little cowgirl, as a debutant, as a reporter in a bikini. Velez laughs at herself the way everyone should, and often. For fans of Velez, iWant offers the stirring story of her growing up, and one can easily imagine her rolling her eyes while retelling her own antics.
Jane will be speaking/autographing her book at the 92nd Street Y on Sunday, October 11th at 7:30pm.
See Jane at the Famsanctuary walk Sunday, October 4th: