Imagine trying to reconstruct Beethoven's Ninth Symphony from a handful of reviews of the original performance. Or reimagine what Citizen Kane might have looked like, with a few snapshots but no actual footage of the original film. This is the task that dance historians Millicent Hodson and Kenneth Archer embarked upon several decades ago, when they began to piece together the choreography, costumes, and set designs for The Rite of Spring, the epochal collaboration of composer Igor Stravinsky, choreographer Vaslav Nijinsky, and artist Nicholas Roerich.
Stravinsky's score has survived intact, and endured for a century as a centerpiece of classical music as well as the dance world. But Nijinsky's choreography vanished after only nine performances. Hodson examined photographs, drawings, and notes to channel Nijinsky's original vision; Archer reconstituted Roerich's sets and costumes from original photos. The result today, recently performed by the Joffrey Ballet as part of the University of North Carolina and Carolina Performing Arts' "Rite of Spring at 100" festival, is titled "after Nijinsky": as precise an imagining of what took place on the stage in 1913 as is possible a century later.
UNCSA dancers rehearse "Jeux" (photo credit: Kenneth Archer)

Only two weeks before that legendary 1913 premiere, though, another monumental work graced the stage of Paris' Theatre des Champs-Elysees: Debussy's Jeux, also with choreography by Nijinsky, and costumes and designs by Léon Bakst. Debussy's lithe, sensual music undergirded a vividly erotic game between a young man and two women in a garden during a tennis match. It was not only one of the earliest ballets to be set in modern times -- an airplane hung in the backdrop -- but also an overtly sexual ménage-a-trois. The scandal had been tamed from its Nijinsky's original vision, which featured an all-male cast and ended in a plane crash.
Naturally, after taking on the mammoth task of bringing Nijinsky and Roerich's Rite back to the stage, Hodson and Archer turned towards Jeux. Their recreation of the ballet premiered in 1996, and next weekend it arrives in Chapel Hill as part of the UNC School of the Arts Spring Dance performances. I recently interviewed Hodson via email in advance of the program.
What spurred you to reconstruct Nijinsky's choreography to Jeux?

Millicent Hodson: Just as for The Rite of Spring, Kenneth [Archer] had long been curious about how the Bakst designs would look on stage. He always says that theatrical designs can only be seen for real with live performers and lighting.
For me, working on Nijinsky's choreography, it was clear that many ideas broached in Jeux were developed in The Rite. When I did my book on Jeux and clarified the chronology of its creation, I was even more convinced of its importance to Nijinsky's Rite, a kind of laboratory that made the material of his Faune relevant to any subject. But, of course, we reconstructed The Rite seven years before Jeux. So doing Jeux was like moving backwards in Nijinsky's creative process. We recognized The Rite connections in retrospect.
What were the difficulties in attempting to revive a choreography and stage design unseen for decades?

Kenneth and I did The Rite as our first reconstruction, not really thinking to do others. We were passionate in our search for that lost masterpiece and determined to see it live onstage. After the 1987 premiere, Robert Joffrey asked us to finish the work he had begun on Balanchine's 1932 Cotillon, which we did with his company, after his death, in 1988. That gave us a chance to hone our skills in relation to a different choreographer and different time period. Also, our focus on visual and verbal evidence for The Rite shifted to direct interviews for Cotillon, as there were many survivors still alive, three generations who danced the ballet. Then we did Balanchine's La Chatte from 1927 and again adapted our approach, working with the ballerina on whom it was created, Alexandra Danilova, but who never performed it, and one ballerina who did, Alicia Markova.
In 1994 the Paris Opera invited us to return to Nijinsky with Till Eulenspiegel, which he had created in the US on the Ballets Russes American tour of 1916, serving as director of the company in Diaghilev's absence. Till was a huge hit in the US, with at least 15 curtain calls at the Manhattan Opera House. This success was denied by Diaghilev and his coterie, still alienated because of Nijinsky's marriage.
The fascination of Till for us was that Nijinsky experimented with a kind of mime and narrative more typical of Fokine, though he kept his own stylized movement. Paris was good at perfoming Till but the Rome Opera a few years later, was better. The tradition of tragicomic mime still flourishes in Italy. We hope to restage Till at the time of its centenary in 2016, pushing it further in the Expressionist direction we think Nijinsky intended. It was a solo for Nijinsky and fifty dancers around him. We have never had the company time to develop the many roles in their angular, idiosyncratic detail.
What does the reconstruction offer -- both artistically and historically -- audiences in the 21st century?

Nijinsky's idea to do a ballet about sport in modern dress was already an innovation, pointing toward post-modern dance. His transformation of Diaghilev's idea of a male love triangle into a mixed gender menage a trois gave him greater emotional scope and probably less censorship, liberties we take for granted now but which were hard won.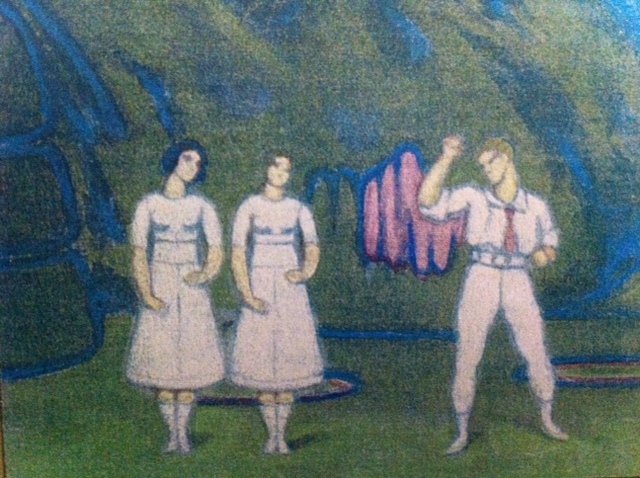 A 1913 pastel by Valentine Gross of the original "Jeux" staging

However, his great achievement was to find the gravitas in this three-way love affair. Nijinsky called Jeux a "dance poem" with a trio in tennis whites against the deepening greens and cold electric light of an Edwardian garden at dusk. Nijinsky found the dark center of Bakst's pleasure garden and Debussy's rhapsodic, jazz-inflected score, turning Jeux into the first anti-war ballet. Nijinsky conceived Jeux in London where he observed Bloomsbury intellectuals like Virginia Woolf, her sister and the painter who attracted them both. There Nijisnky was exposed to all the "isms" of the era -- Gauguin's post-impressionism, British socialism, feminism, and pacifism. When the music breaks into 2/4 time from its customary variations on the waltz, the trio march as though to their doom. After World War I there was one man to every two women in Europe. The dancers cut in on each other's accelerated waltz. Will they all be together again? They embrace, holding on for dear life. Bloomsbury saw the war coming and its terrifying invention of aerial bombardment. That is the meaning of the tennis ball that crashes on stage at the end of Jeux.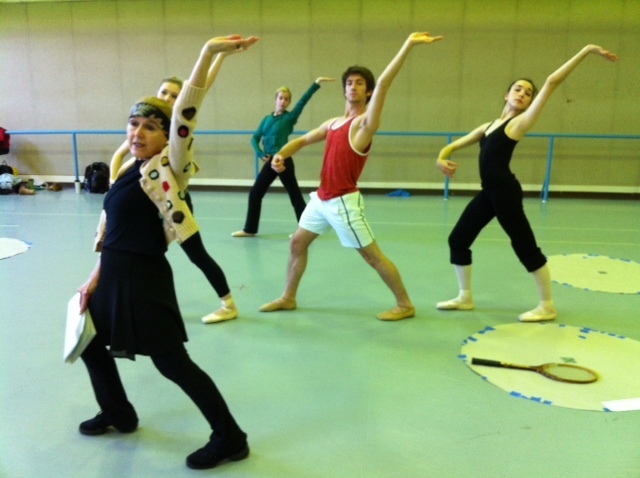 Hodson rehearses "Jeux" with UNCSA dancers (photo credit: Kenneth Archer)

Has the production changed since its first re-staging?

The decor, costumes and choreography or our production remain the same. But the ethos changes subtly. Every trio in Jeux discovers its own chemistry. That is the directorial task in staging our reconstruction, to build the work but also to facilitate the building of their relationship, watching closely and reporting what we see happening among the three dancers. We have staged Jeux with major artists at the Verona Ballet, Royal Ballet Covent Garden, the Joffrey and Rome Opera. Our lead trios were all at least in their thirties. The UNCSA dancers are young -- the man is 20, the women are 18. They have gone fearlessly into the feelings the ballet evokes. Their movement has become truly sculptural in the Nijinsky style. And they have learned to express emotion through each nuance of gesture, keeping the face as a mask, which was Nijinsky's goal.
How do the upcoming performances in Chapel Hill fit in with the broader celebration of the centennial of The Rite of Spring?

Both ballets signal the seismic change into 20th century modernism, moving toward abstraction, but with palpable, archetypal meaning, the collective fear of death, the premonition of destructive forces, the hope for not just survival but renewal.
Jeux arrives at UNC's Memorial Hall on April 20 and 21; you can purchase tickets here. The final performances of "The Rite of Spring at 100" festival by the Martha Graham Dance Company, including the choreographer's famed interpretations of "Appalachian Spring" and "The Rite," will take place on April 26 and 27. You can learn more about "The Rite of Spring at 100" here, and read previous Huffington Post columns on the festival here. Be sure to check out Reflections on the Rite, a blog that discusses what "The Rite of Spring" means today.