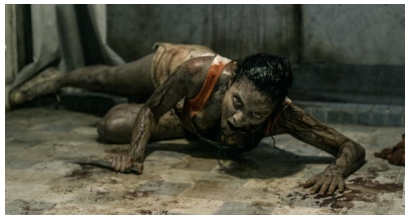 The new Evil Dead, directed by feature newcomer Fede Alvarez, may seem to be the latest chapter in Hollywood's ongoing descent into creative bankruptcy. But is that actually so? Cinefantastique Online's Steve Biodrowski, Lawrence French, and I get together to debate whether this return to Sam Raimi's prototypical cabin-in-the-woods bloodbath is yet another wan knockoff being shoveled into theaters in lieu of, oh, something new and different, or a fitting follow-up that respects Raimi's delirious, anything-for-a-scream aesthetic and then throws in an emotional grounding not exhibited in the previous entries.
Then, Steve and I discuss the nuanced, Norwegian horror film Thale, and I give my opinion of the not-quite-as-nuanced horror comedy, Eddie the Sleepwalking Cannibal. Plus: What's coming to theaters next week.
Click on the player button to hear the show, or right-click the title to download.
Cinefantastique Spotlight Podcast: Evil Dead