**See video and photo below**
Panasonic has just unveiled the world's first 3D Full HD plasma TV prototype.
Panasonic's 3D TV has a 103-inch Plasma screen and can display 3D images by playing Blu-ray Discs that have been recorded with 3D video (consisting of left- and right-sided Full HD images).
Gizmag explains,
HD processing occurs on both the left- and right-sided 3D image in every single process - from recording, playback and display. A special pair of active shutter glasses that work in synchronization with the Plasma HDTV enable the viewer to experience 3D images formed with twice the volume of information as regular full HD images, and enjoy them together with high quality surround sound.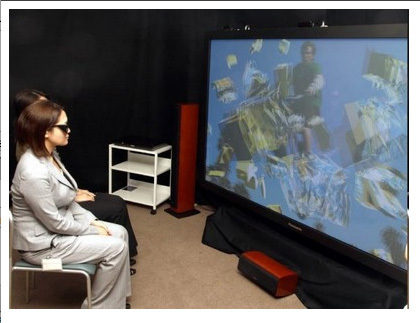 WATCH: