Love Water Memory ($26, Gallery Books) is a moving read, reflected beautifully in Laywan Kwan's cover design. As part of our series Under The Covers, we spoke to Kwan via email about how and why she designed it this way - and about her favorite book covers of all time.
In your own words, what is this book about?
it's been a while since i read this manuscript. but from what i recall, it's about a woman with amnesia - slowly discovering who she is and who she used to be.
What was the mood, theme or specific moment from the text you depicted with this cover?
i think the title pretty much says it all. the three main elements of this book are love (the main character's relationship with her fiancee), water (prominent imagery throughout the book), and memory (she struggles with amnesia).
What was the biggest challenge in designing this cover/art for this book?
i think everybody involved with this book had a specific idea for the look of it. it's always difficult trying to satisfy other people's visions when all you have to work with are things like "make it look like this other book" while trying to maintain your own creative vision.
Did you consider different ideas or directions for this cover and your other art in the book?
the illustration on the back cover was actually considered initially for the front cover art. i also did some comps with digital images. and i have another version of my watercolor typography i submitted to my art director/publisher for consideration: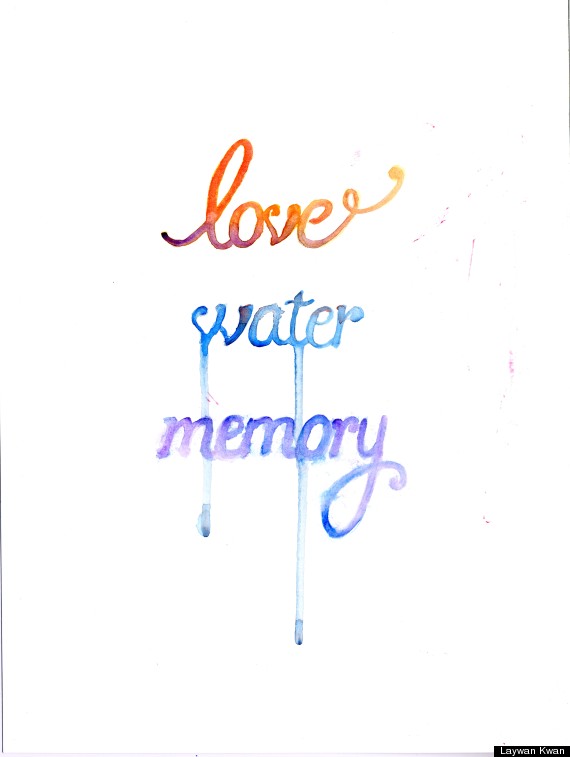 What is the most important element of a successful book cover?
a book cover always needs something eye-catching. for me, simpler covers tend to be more successful. for other people that might mean bigger, bolder, shinier....
What are some of your favorite book covers or illustrated books?
i have always loved the Quentin Blake covers for Roald Dahl. i also love the covers for "oh the glory of it all," "a million little pieces," the girl with the dragon tattoo series, and jen wang's cover for "little red riding hood" to name a few...
Do you judge books by their covers?
a good cover will usually get me to pick up a book. but i usually buy books by word of mouth.
What inspires your design?
everything.
What is your previous design experience?
i've been designing book covers for almost six years now. you can see some of my work on my website www.laywan.com
previous to this, i worked as an architect. i'd say it's a lot easier to control your designs in the 2D world.
Check out the final cover design of Love, Water, Memory: