Near the intersection of Exchange Place and Broad Street in New York City's financial district, three distinct smells pervade the air: cigarette smoke, pretzels, and construction dust. A young man dressed formally carries a yellow placard through the tourist crowd urging, "Believe in the Lord Jesus." The steps of the neighboring Federal Hall National Memorial Building serve as the passing travelers' lunch table, photo backdrop and temporary office desk.
From there on, September 15, 2008, unfolds a little differently. Lehman Brothers had just filed for bankruptcy; Merrill Lynch had just been bought by Bank of America. Television crews are the only windows into the crisis surrounding the tourist and the citizen. Nobody understands it all. Somebody needs to be blamed. Everybody seems to know it needs to be documented.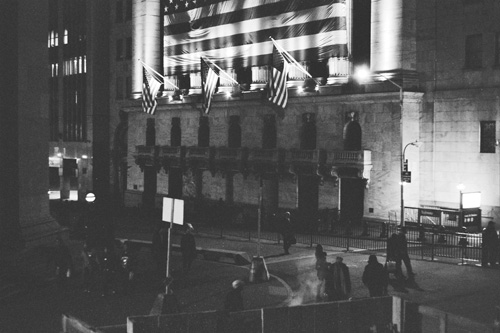 Tourist traffic marches past the scene unabated: One group obediently follows its guide, who shuffles past the crowds, using his raised blue umbrella like a lantern for his herd. It isn't the first time that stocks bounce randomly. Nor is it the first time that tourists parade outside, a little perplexed. But it is one of those rare moments at the beginning of a long and painful recession, when everybody seems to stop playing the confidence game, and the tickers, crowds, analysts, and media crews grope in the dark in unison.
"Nobody expected it," says Radhika Thirumalai with an incredulous smile. She lost her job the day before at an asset management reporting firm with close ties to Lehman Brothers. Standing outside the Exchange, she appears cheerful; a red jacket protects her from the breeze as her hair flies across her face. "Life goes on," she muses. "I wanted to start my own consultancy anyway." This is her first free weekday during her four years in New York, and her first trip to the Stock Exchange, the home of some of those assets she helped manage.
The Exchange stands behind black metal barricades and security posts; three New York Police Department vans with four police officers and a sniffer-dog keep watch from a distance. "We've been doing this every day after 9/11," says one officer. "Monday to Friday, 9 to 5 p.m." A gigantic American flag, installed after 9/11, covers the six Corinthian columns on the Exchange's façade. Shock and awe manifests itself in small measure here.
"Things were a little anxious before the opening bell, but it's a normal day inside now," a floor trader had remarked earlier. The market lost 410 points the previous day. It bounced back today by 113. By the end of that historic week, it will have regained all losses. The 113, everyone seemed to silently believe, was cause for short-term cheer and long-term anxiety.
"There's never a dull day," explains Annmarie Gioia, a media representative for the Stock Exchange, escorting a group of media photographers inside. The group isn't pleased with its vantage point. "It's the second floor gallery, and all you get is a sea of heads," laments one photographer. "Unless someone looks up."
A weary trader plops onto his chair as the closing bell rings in the end of the trading day. He rests his elbow on a table and props his head in his hands. There's sudden activity in the gallery, as photographers turn their cameras toward him with a volley of clicks. The trader closes his eyes, visibly tired. More clicks. The caption, it would seem, had preceded the frame.