Long, long ago: eight years and some odd months ago to be exact-ish, Mike was a stripper. OK, not really, but I did put a dollar bill in his pants as he hung off a pole during one of his shows. He was the lead singer in a band, and I was brought to his show by a mutual friend who wanted to set us up. It didn't work. Not right away. We were both seeing other people but, when that went south a month later, I needed a rebound. Lucky for Mike he was the first to come to mind. I called him and he definitely remembered my "smokin' hot body and radiant presence" (his words, not mine). The rest is history.
The last eight years have been incredible and maybe someday I will write a novel about what I consider the greatest love story of all time, but for now I will jump to September 30, 2011. Mike is a very thoughtful person and planned a romantic weekend getaway to the mountains where he decided to take me for a gondola ride. As we were walking around he stopped me on a bridge, said very sweet things to me (I'm blushing as I write this), and all of a sudden, got down on one knee and opened a box with the most GORGEOUS ring I've ever seen!! Back down at the condo my mom had snuck in and covered the entire place with flowers; we drank champagne and celebrated amidst rose petals. It was one of the most beautiful days of my life, even the part where I climbed up the side of a mountain in my nice, not-meant-for-hiking-boots.
Our everyday life has its share of wild and crazy. I own a line of hands-free bags, shoppelt.com, so that keeps me busy, and Mike is working on about 5 million projects, but nothing is quite as crazy as working a summer on Warped Tour, the largest and longest running concert tour in the country. I always had dreams of touring and living that rock 'n roll gypsy lifestyle, so when Mike worked Warped Tour in 2011 I lived vicariously through him. The distance was hard on our relationship, so when he was offered a job on Warped Tour 2012 (which started two weeks after our wedding) there was no way he was going without me. Numerous phone calls and emails later I secured a job on the road with Truth, one of the tour's sponsors, and thus began the wildest honeymoon I could have imagined.
Touring as a newlywed is challenging. You want to spend as much time together as you can, but you don't realize how difficult that will be until you are in the mix. Our schedules were completely opposite, so on some days we were lucky if we got to wave to each other across the parking lot or get a quick kiss in the catering line. Most new wives spend their honeymoon staring at their husband in swim trunks. In our situation, I found myself lusting after my husband as he was swinging a sledgehammer. Instead of romantic bubble baths and a king size bed, we sought out our special moments where we could. It may have been a make out session under the stage while The Used played above us or laughing together in an empty amphitheater, but it didn't matter because we were together.
The days were challenging, but the nighttime events and parties made up for that more often than not. I got "lei'd" at the Warped Luau, had the hottest date at Warped Prom, and danced like crazy practically nightly at the band and crew BBQs. After the parties, the occasional 2 or 3 am late bus call gave us a chance to slip away from the group, be alone and even fit in some married people activities. Since we worked with different crews on tour, we had different bus assignments, meaning no "honeymoon bunk" for us. To make matters more complicated, having a "guest" sleep on your bus is generally frowned upon, even if you are married. Honestly, though, I wouldn't really want to share a bunk anyway; those things are barely bigger than a shoebox. .
Those late bus calls were great, but on days off we felt like we'd hit the lottery! Things that other newlyweds take for granted, like sleeping in the same hotel room or going out to dinner, were a luxury for us on those rare days that we were not working. We made a point to make those days count with downtime adventures that included skydiving in San Diego from 13,000 feet, taking over dive bars in Jamestown, a massive dance party on July 4th at a Springfield baseball field, and celebrating Mike's 30th birthday in Detroit, where I managed to pull off a surprise cake and roadie rendition of "Happy Birthday."
What made this summer even more awesome, you ask?!? The fact that we had a camera crew from Fuse following us around, documenting the best summer of our lives. Thanks to "Warped Roadies" we get to relive those must-see moments and share them with the world every Friday night.
With all the challenges, I can't complain about my unconventional honeymoon. I also can't think of a better way to start my life as a wife than with the one-of-a-kind experience we had touring the country with rock stars. Since we couldn't spend our honeymoon alone, at least it was with our huge, fun and ridiculously "Warped" new family. On tour we met incredible people, saw amazing places, partied and worked harder than ever before, and sweat more than any person should. To share that with your spouse is priceless, especially when it serves as your "Punk Rock Honeymoon."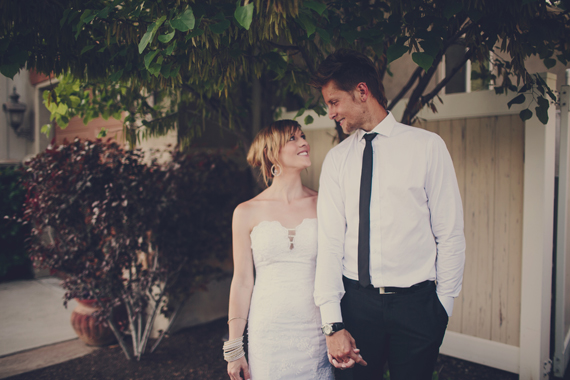 Mike and Lindsay are featured in a new unscripted series, "Warped Roadies," which premieres Friday, December 7th at 11pm EST on Fuse.