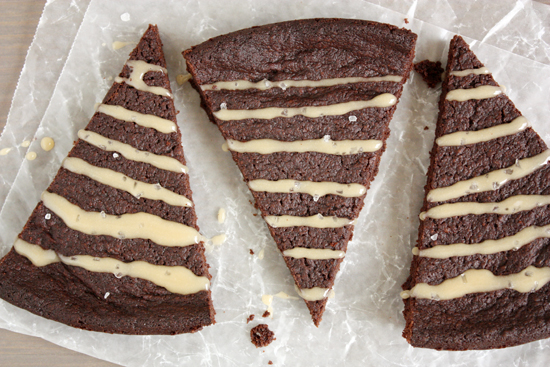 When the leaves fall off the shivering trees and the lake freezes to a smooth, glassy sheet, nothing warms my heart more than a plate of fresh-baked cookies. It makes sense, right? In this season of comfort and joy, it's obvious that nearly everyone agrees with the cozying power of the cookie -- it's not like we temporarily sacrifice our diets for these cookie exchanges for nothing. Heck, even Santa needs a cookie or two to boost his energy on Christmas Eve.
Having firmly decided that cookies are a necessary sustenance during the holidays, I knew this year I had to make something really special -- something that would stick with me even through the New Year when I "call off cookies forever!" "commit to exercising every day!" "train for a marathon!" which inevitably falls by the wayside the minute a new plate of cookies presents itself before my eyes. But maybe, just maybe, this salted caramel mocha shortbread is good enough to keep my inner cookie monster satisfied until at least Valentine's Day. After that, well, I can't promise anything.
Don't let this decadent-sounding cookie fool you: The mocha flavored shortbread gives enough depth with its pure chocolate and coffee notes to offset the richness of the salted caramel glaze on top in a way that makes this cookie perfectly satisfying. It's crumbly and dense, like a good shortbread should be, but it doesn't leave you with that chewy, almost powdery residue that glues itself to your gums. It holds up well to a cup of coffee, milk or eggnog on the side, but it's also delicious just on its own. Really, it's the perfect holiday cookie -- amenable to cookie exchanges, holiday parties or an afternoon in the kitchen with your little ones, homemade gift baskets or stocking stuffers. And of course, to a certain jolly soul on the night before Christmas.
Salted Caramel Mocha Shortbread
Yields: 8 wedges
Ingredients:
1/2 cup plus 3 tablespoons unbleached all-purpose flour
1/4 cup Dutch process cocoa powder
2 teaspoons instant espresso powder
Pinch of sea salt
1 stick unsalted butter, room temperature
1 1/2 cups powdered sugar
1/4 cup store-bought caramel sauce
1-2 tablespoons milk
Sea salt, for topping
Directions:
Preheat oven to 350 degrees F. Line an eight-inch round cake or springform pan with parchment paper. In a large bowl, whisk together flour, cocoa powder, espresso powder and sea salt. Set aside.
In the bowl of a stand mixer, beat butter on medium speed until pale and creamy, about one minute. Add 1/2 cup powdered sugar and beat well. Add flour mixture; beat on low speed until well combined.
Pat dough into prepared pan. Bake 20-25 minutes or until puffed at edges and just set on top. Remove from oven and let sit five minutes, then cut into eight wedges. Let cool completely on wire rack.
In a small bowl, combine remaining powdered sugar, caramel sauce and milk; drizzle over cooled shortbread. Sprinkle lightly with sea salt.
Shortbread recipe adapted from Martha Stewart.