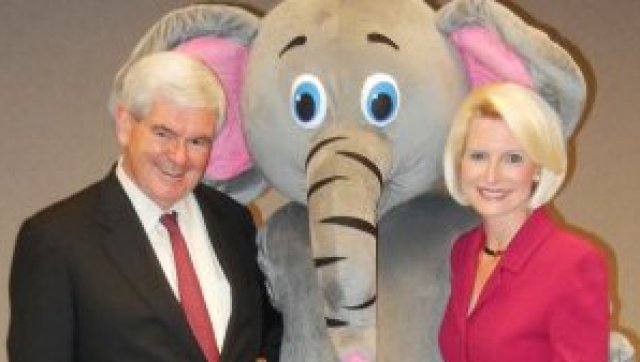 ALEXANDRIA, Va. -- Christmas is coming early for D.C.-area fans of Newt And Callista Gingrich.
Newt may once have promoted journeys to Mars. He and his wife Callista will be taking a shorter trip on Dec. 15, when the pair travel to George Washington's Northern Virginia home, Mount Vernon, for a joint book signing.
Newt will be signing copies of "Victory at Yorktown: A Novel," the third book about George Washington written with coauthor William R. Forstchen. The book "colorfully and accurately portrays Washington and other historical figures as they struggle with tactics, strategy, logistics, intelligence, meddling politicians, and petty rivalries," according to Publishers Weekly. "Less powerful is a sappy fictional subplot about an American officer and a British officer, two friends in love with the same woman. "
Callista will be signing "Land of the Pilgrims' Pride," a children's book wherein a patriotic elephant travels through Colonial America.
And if country-loving animals are your thing, when you're done mingling with the literary Gingriches -- the signing is from 4-7 p.m. -- be sure also to check in on Cobbler and Gobbler, the turkeys pardoned by President Obama just before Thanksgiving. They're on view at Mount Vernon until Jan. 6.