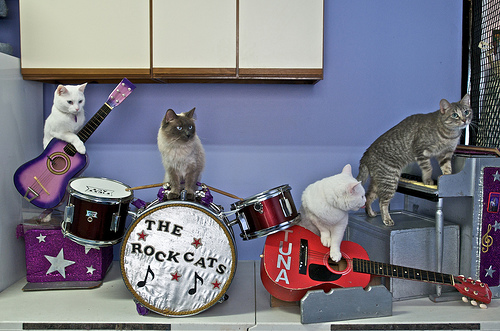 "I need to make sure I stay healthy," says Samantha very soon after we introduce ourselves. Sam gave up financial security when she started her business, a private zoo and animal talent agency she operates out of her Chicago 3-flat, and she knows one bad health problem could leave her homeless. While Samantha makes at least a little money and gets to work with animals, the gigs don't pay enough and there simply aren't enough of them. "I have no savings, no retirement and nobody who's going to take care of me."
Still, tired of bossy landlords threatening her animals and kicking her out of apartments, Sam scraped together enough money to buy a 3-flat on Chicago's Northwest Side, a purchase that significantly expanded her square footage and made the business possible. Sam uses the first floor and basement to house reptiles, rats, chickens and miscellaneous mammals and until recently a close friend rented the third floor apartment; Sam and her cats live on the second floor, a bright and sunny 2 bedroom apartment decorated with animal posters and all manner of cat-like Decoratus Absurdum.
Many people don't have pets; for them, even a single domestic house cat sounds like too much responsibility. Samantha has 20, four of which play together as the sensation Rock Cats while some of the others are needed for backup (they're divas). Many do double duty as part of the Acrocats. The I'd-Eat-a-Partridge Family share the space with a not-so-domestic African Sirva, Caesar, which is essentially a very large housecat . . . except not at all a very large housecat. Unfortunately, after having successfully avoided hearing details about the infamous Chimp attack, my friend and neighbor insisted on filling me in the day before I visited Samantha . . . and Caesar.
Continued . . .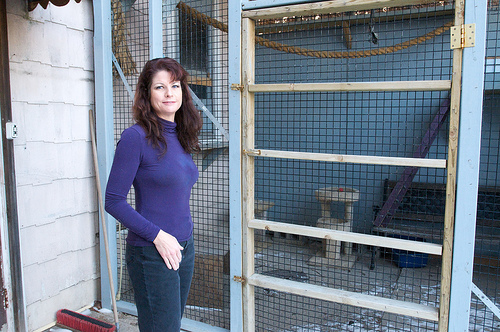 Until she moved out recently, Samantha's best friend lived on the third floor, a friend who helped her stay above water by paying rent, but also by helping Sam manage the countless tasks she faces every day (sweeping, mopping, dusting, feeding, giving medicine and on and on) that would be overwhelming even with a full-time staff. "Sometimes I just don't want to get out of bed," says Samantha. "I don't know where to start."
But Samantha's friend met a guy she liked and decided to give it a try; she wants a husband, maybe a kid or two, a desire Samantha doesn't quite understand and certainly doesn't share.
"I thought I was going to grow old with her and we'd just have guys on the side," says Samantha, who wants her future partner, whomever he may be, to be her reward after a long-week. She has no desire to live with him; nevertheless, she knows her unique living situation will be a consideration, and she doesn't seem hopeful about the prospects of meeting Mr. Right.
"Who's going to want a forty-something year old woman who lives like this?" Samantha asks. But Sam's underestimating her appeal. She's friendly, caring, dedicated, energetic (she has to be) and really cute. It's hard for any of us to meet the "right" person (whatever that means), but I think Sam's got as good a shot as any.
Continued . . .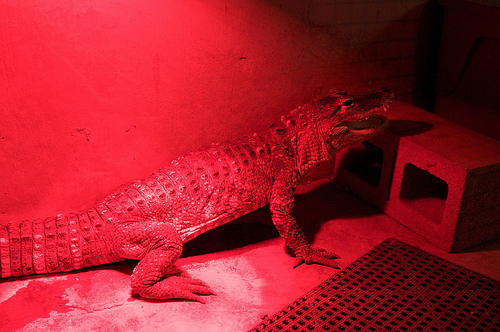 Life was easier for Sam when she took the cats on tour with the Festival of Culture. It was a time when the money was regular . . . predictable. And she could simply return to her hotel every evening, to a "magic room" that would seemingly clean itself every day while she was out with the band. She's hoping the Rock Cats are her ticket to fame and maybe a bit of security, but the band's in a catch-22. 'If they don't get work, they'll never be as smooth as they should be," she says. "But they can't get really good unless they work." (Writers note: I thought they were pretty good for cats).
Samantha knows her life could be easier, and she admits to daydreaming about chucking it all and leaving town. But then she thinks about her pets; she'd have to bring her cats . . . and it'd be a shame to split up the band just as they seem to be catching on, so she'd want to bring all the backup kitties. Pretty soon her daydream looks a lot like her life, which tells you something about Samantha; her life is just her life, what she's meant to do. Sure, it might be a little harder than most, but Sam's following her passion, living life on her own terms and still making ends meet. How many of us can say that at any time, let alone in this economy?
Check out the Rock Cats at the Gorilla Tango Theatre.
Click here to read past Open House tours.

Read the Chicago Tribune's recent story about Samantha.