Feb. 5, 2009
Ambassador Ichiro Fujisaki
Embassy of japan
2520 Massachusetts Ave. N.W.
Washington, D.C. 20008
Ambassador Ichiro Fujisaki,

My name is Frankie and I am 9 years old. I am a third grader in California.

Please sir, can you see what you can do to stop the killing of dolphins in Taiji, Japan? I love dolphins!! It is so cruel how they kill them and it takes a very long time for them to die. Please write me back!

Sincerely,
Frankie Churchill
***

Feb. 5, 2009

Dear Ambassador Fujisaki,

Dolphins are treasures not snacks! Please stop the killing of dolphins in Taiji.

From,
Frankie
***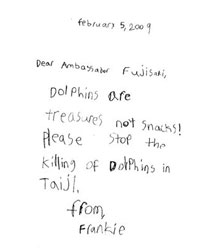 February 11, 2009

Dear Ambassador Fujisaki,

This is my 5th letter to you! My name is Frankie Churchill and I am 9 years old. I am in the third grade in California.

Do you think I could come to Washington, DC to talk to you about the dolphin killing in Taiji, Japan? It is less than 7 months away!!

I want to tell you that it is wrong to kill dolphins! Saturday I saw a baby humpback whale swimming with dolphins!

Where I live, we can see dolphins every day swimming free in the ocean. We don't catch them or eat them. A dolphins home should be in the ocean not on a plate!

Please write me back and let me know if I can come and meet you! Remember, dolphins are treasures not snacks!

Sincerely,
Frankie Churchill
***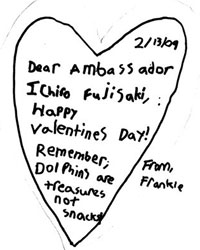 Feb. 12, 2009

Hi Ambassador Fujisaki,

It's me again! Can you come to visit me? We could go out for sushi (vegetarian, of course!) We can talk about saving the dolphins in Taiji. I can take you to Westward Beach near my house and I could show you the whales and dolphins that are there now. We don't kill them or eat them. We just watch them.

Remember, dolphins are treasures not snacks!

Frankie
***

Feb. 12, 2009

Dear Ambassador Ichiro Fujisaki,

Happy Valentine's Day! Remember, dolphins are treasures not snacks.

From,
Frankie
***

February 16, 2009

Dear Amabassador Fujisaki,

Happy President's Day! Did you get the day off work today? I saw on the news today that our new Secretary of State, Hillary Clinton is visiting Japan. Maybe you could call her and ask her to talk to the President of Japan about saving the dolphins in Taiji while she is there!

Why don't you ever write me back???

Remember! Dolphins are treasures, not snacks!

Sincerely,
Frankie Churchill
***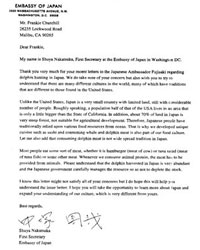 EMBASSY OF JAPAN
Dr. Frankie,
My name is Shuya Nakumuka, First Secretary at the Embassy of Japan in Washington, DC.
Thank you very much for you recent letters to the Japanese Ambassador Fujisaki regarding dolphin hunting in Japan. We do take note of your concerns but also wish you to try to understand that there are many different cultures in the world, many of which have traditions that are different to those found in the United States.
Unlike the United States, Japan is a very small country with limited land, still with considerable number of people. Roughly speaking, a population half of that of the USA lives in an area that is only a little bigger than the State of California. In addition, about 70% of land in Japan is very steep forest, not suitable for agricultural development. Therefore, Japanese people have traditionally relied upon various food resources from ocean. That is why we eveloped unique cuisine such as sushi and consuming whale and dolphin meat is also part of our food culture. Let me also add that consuming dolphin meet is not wide spread tradition in Japan.
Most people eat some sort of meat, whether it is hamburger (meat of cow) or tuna salad (meat of tuna fish) or some other meat. Whenever we consume animal protein, the meat has to be provided from animals. Please understand that the dolphin harvested in Japan is very abundant and the Japanese government carefully manages the resource so as not to deplete the stock.
I know this letter might not satisfy all of your concerns, but I do hope this will help you understand the issue better. I hope you will take the opportunity to learn more about Japan and expand your understanding of our culture, which is very different from yours.
Best Regards,
Shuya Nakamuka
First Secretary
Embassy of Japan