Photographers often say that the best camera is the one you have with you.
One family from San Clemente, Calif., proved the adage right Sunday when they captured this stunning photo of half-a-dozen dolphins jumping and swimming alongside 9-year-old Gabrielle Zeni.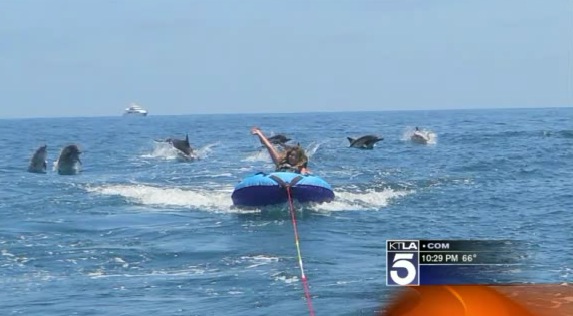 Gabrielle Zeni swims with dolphins. (Screenshot of KTLA video)
"The camera's ghetto," said Gabrielle's older brother to KTLA. "There's a rubber band holding the battery pack in."
Still, the humble consumer camera was up to the task of capturing what was probably a once-in-a-lifetime moment for Gabrielle.
"Everybody thinks we photoshopped it," said Reyna Zeni, Gabrielle's mom.
ALSO ON HUFFPOST:
The Shedd Aquarium in Chicago celebrated the arrival of a new baby dolphin in May. Check out photos of Piquet and her new calf, courtesy of the Shedd Aquarium: