C'mon, Gisele. Just tell us already!
The Brazilian supermodel teased the "pregnant or not?" question yet again with a new shoot for Vogue Brazil's July 2012 issue. In the editorial, lensed by Patrick Demarchelier, Gisele poses with her tummy cleverly (strategically?) covered for almost every pic, putting nearly everyone on high bump alert.
But if she was trying to hide something, she clearly wasn't doing too good a job: the cover, recently revealed, showed Gisele tummy in all its unobscured glory. And it looks a little... bump-y.
Then again, it could be all those insane polka dots (Ed. note: please tell us this is not a new summer trend) distracting us. That, and the odd '90s-esque handkerchief top. Not to mention that, this being the July issue, the photo was likely shot in May or April, if not earlier.
The Gisele pregnancy rumors, which say that the 31-year-old model is pregnant with her second child with husband Tom Brady, began about a month ago with several reports from the Brazilian media. Us Weekly reported the pregnancy as fact in early June, yet cited only an unnamed "source"; neither Gisele nor her reps have yet to comment.
But who needs an official comment when you've got covers like this?
PHOTO: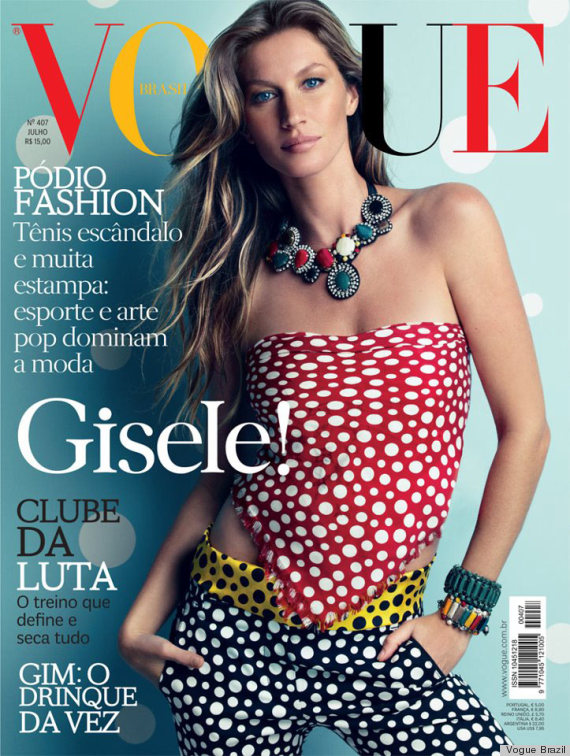 See more model moms!
Want more? Be sure to check out HuffPost Style on Twitter, Facebook, Tumblr and Pinterest.