Eva Longoria doesn't need help in the Photoshop department, what with her two consecutive Maxim's Hot 100 List wins.
Which is why we were aggravated to see an overly airbrushed Longoria on the cover of Amica's July 2012 issue. Why would the Italian mag go through the trouble of drastically retouching the 37-year-old beauty?
Longoria appears on the cover in a deep purple Lanvin dress holding what looks like a potato. More bizarre than that? Her skin tone, which looks completely altered from its natural color in favor of a lighter, blemish-free white hue. Where's that signature Longoria glow?
Aside from the skin retouching, Eva's got some extra-accentuated cheekbones and jaw line that look practically fake. We'd almost believe that Longoria had some "work" done, except that the star has confessed her fears of plastic surgery before. "I'm terrified of needles and knives," Longoria OK! Magazine earlier this year. "I saw those Discovery Channel shows with the operations. The sound of the chisel. Agh! No thank you."
This is not the first time Amica has pulled some Photoshop shenanigans. The magazine's most recent issue featured a dazed Diane Kruger with what may or may not be a fake crown pasted atop her head.
Did Eva get the Photoshop treatment? Check it out below.
PHOTO: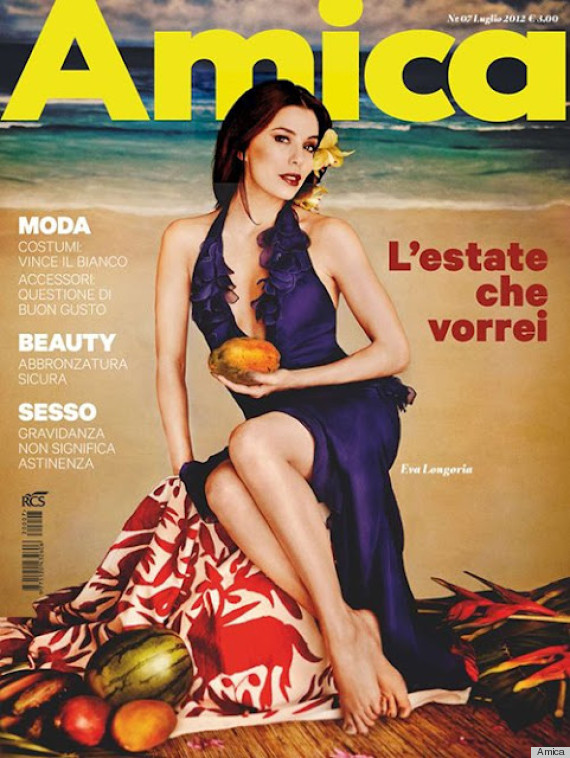 See more Photoshop nightmares...
Want more? Be sure to check out HuffPost Style on Twitter, Facebook, Tumblr and Pinterest.