The Inauguration was a hit. We got a new president, we heard some great speeches, and we saw fabulous first lady fashions. But wherever there's good, there's always evil. And this year evil disguised himself in bow-tie hats and hooker-boots, but we were able to pick him out of the crowd even though our eyes were watery and are noses were frozen. Can't hide from us! Here's a look at some bad Inaugural fashions that made our tears for joy turn into tears for fears. Shout, shout, let it all out-- these are the things I could do without: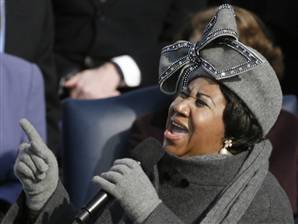 R-E-S-P-E-C-Take that hat off. She sang beautifully and she is, ahem, Aretha, but I don't think I'm alone when I say I was distracted by the bow. Big time.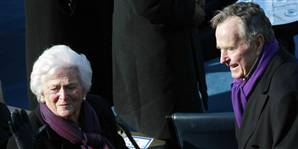 George H. W. Bush and Barbara Bush wore matching purple scarves. Interesting choice. I wonder if they saw each other for the first time in the limo that morning and rolled their eyes and sighed.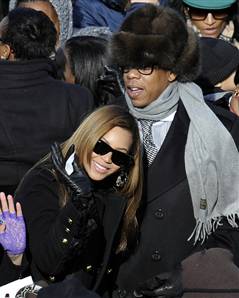 Can I get a what, what? Jay-Z's Russian-inspired hat reminds me of one George Costanza Russian-inspired hat. "This hat just bottles the heat, I don't even need a coat! It's unbelievable, Jerry!"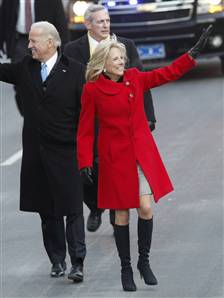 I found Jill Biden's choice of footwear rather strange. There are chicer ways of keeping your calves warm other than go-go boots. I'm not suggesting leg warmers, but wool tights and cute pumps would've done the trick.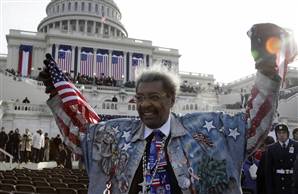 Don King looks like he should be on the 50 yard-line of Buffalo Bills game, not at a Presidential Inauguration. Where does one even get a coat like that?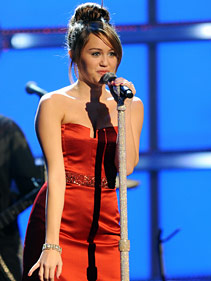 My oh Miley. Performing at Disney's "Kid Inaugural: We Are the Future" bash, Ms. Cyrus looked like she borrowed her mom's dress and her grandma's hair-do. I appreciate that she tried to look sophisticated for the occasion, but a more age-appropriate outfit would've been better.
Read more:
All Of Michelle Obama's Inauguration Outfits: From Saturday To Wednesday (Slideshow)
Michelle Obama's Inauguration Day Dress
Inauguration Day Wear: What Everyone Else Was Wearing (Slideshow)
Michelle Obama's Evening Gown (Slideshow)