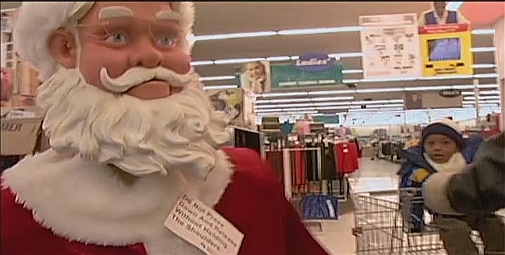 (Image from What Would Jesus Buy?)
"If we could change Christmas, we could change the whole year."

"Christmas is supposed to shake us up!"

-From What Would Jesus Buy?
The big ritual of giving is changing. We have thousands of reports coming into Revbilly.com. Families are approaching the holiday as an open experiment, often in step with other families in their neighborhoods or in their places of worship. In this Christmas Revolution, we ignore the veiled threats from the media that we're bad Americans if the retail corporate grosses sink. We are returning to the very seed of the whole thing: the act of giving.
What does "commercial Christmas" mean, after all? (Even the Pope says it needs to end.) In this kind of Christmas we are never far from the grinning family of eternal shopping - we all know that family - grinning as if electrocuted by the tinsel. There they are in that same McMansion living room - gazing at each other, oh this year's nuclear family explodes with happiness, convenience, freedom, and perfect hair - all those Christmas ads! Coming at us from the shelves, from the sides of delivery trucks, and through the glowing screens of media, these images flow toward our tree, through the chimney, the windows, through the walls...
And also - the glut of Christmas images concentrate in our minds, and in our childrens' minds. Seen this way, commercial Christmas resembles a kind of indoctrination, since these images of happiness are very similar to one another. We call this the Demon Monoculture! The fiercely happy families on the glossy boxes are, above all - consumers. At Christmas we are supposed to be consumers buying the imagery of continuing our condition: shopping for our happiness.
But now Americans are suddenly wise to Santa. We are rejecting this notion that Christmas comes from the FedEx jet, or Santa's sleigh - from the outside. Our images of happiness are becoming self-made again, coming from within our loving relationships. Our dreams, memories and our imaginations are still independent from the grasping control of the marketing departments. This is the delightful and surprising world that is opened to us at the Stop Shopping church when we look at our email each morning. People report that they themselves are a fountain of dances, of paintings and song. They are making new memory fill-in games, promises of future journeys - we even hear of whole plays, dark comic musicals! In a word, we are awarding each other new experiences. This kind of gift is concocted from the funny adjustments that family members make over time to each other - those eccentric private arrangements that only we have, that no company could possibly mass produce.
The original story of the stable full of observant animals and humble parents, the light-filled manger with the Prince of Peace, the bowing kings, the angels flying overhead and even the stars re-aligning - this imagery is like the Garden of Eden without the angry god or the shame. It's a fantastic birth. And it seems to come from the amazing imagination of a child, running up to us with a story, a painting weirder than a South American novel! And the child looks up at us with the colorful chaotic painting, asking with big eyes that we love it and it is - yes it is - a gift! Are there any parents reading this sermonette who know what I'm talking about? Can I have an Amen! This is the original Christmas, the birth of something new.
The Christmas Revolution! It is powerful. It is radical. It doesn't receive the coded imagery of how to live from outside, it creates that imagery and a world of possibility opens up. It is the seed of light in the depth of winter. It is the change of Spring that the child will live to see, a world at Peace.
And in this self-made buoyancy of love and giving is a new realism, which doesn't have to spoil the fun - but it is there, waiting like a bomber beyond the chimney. Recently in our history, as passive consumers, we literally shopped for fossil fuel, for colonial war, for financial Ponzi schemes, and a grand distortion of the idea of American freedom. This was another kind of giving, where marketing executives surrounded our leaders. The new Christmas says to these old products: Change-a-lujah!
-- Reverend Billy