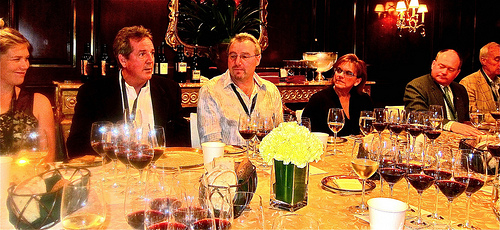 Discussing wines at the wine-tasting luncheon
I went to a wine-tasting this week, an event where professional food and wine people meet to taste some of the new wines which have recently come to market. I was sitting amidst a distinguished-looking group of men (and women) who knowingly swirled their wines in glasses to accentuate the aroma and aerate the liquid. We all had a little cannister near us in which we could eject the wine if we didn't want to swallow it. About half-way through the tasting, a wine was poured which I thought was so delicious I finished it all in a few sips. It was somewhat sweetish, powerful in its intensity, and smooth and graceful in its aftertaste. I turned to the man who was sitting next to me, a handsome gray-haired fellow, and said "I really like this wine." He smiled as he turned to me and replied, "Thank you. I founded the winery that makes this wine." And that's how I met Justin Baldwin.
Justin Baldwin (right) at the wine-tasting luncheon.
A bottle of wine which we tasted and discussed... an American Bordeaux
.
I have been a food and restaurant critic for many, many years, but I admit that I only have an advanced amateur's knowledge about wine-making and marketing. But I have a desire to learn a little more about what makes one wine great and another just so-so, which is why I was at the tasting. So I decided to ask Mr. Baldwin for a little time later to advance my knowledge, and he gracefully agreed.
"I founded Justin Vineyard and Winery in 1981 when I purchased 160 acres west of Paso Robles, halfway between Los Angeles and San Francisco, and planted my estate vineyards there. I had been an investment banker in San Francisco and decided I needed a change. I wanted to produce world-class Bordeaux-style blends on my Central Coast vineyards, wines similar to those produced at the great estates in Bordeaux in Southwestern France. With the help of a trusted assistant, I planted, by hand, 70 acres of vines. Remember, Jay, wine-making is actually a simple task. You take grapes, remove the liquid -- called juice -- from them, and ferment the juice, making wine." I laughed at this "simple" explanation, knowing it was not that easy, but he went on.
"When we started, there were only eight vineyards in the area. Now there are over 200." I asked Justin what were some of the problems he faced during these 40 years, and he grimaced and named them on his fingers: "Mudslides, drought, gophers, diseases, mismanaged pruning, hailstorms and frosts." At which point I asked him to stop.
"It's been a long slog, but it provided a living for my family, we won worldwide acclaim and put Paso Robles on the map. We did succeed."
The 'little old winemaker'... in this case, Justin Baldwin of Justin Winery
Did he ever! I Googled his winery and learned that his wines had been awarded many 90+ points by major wine trade journals. He has won awards such as Best of Class and Best of Region, the coveted Pichon Lalande Trophy for "World's Best Blended Red Wine," and the James Beard Foundation's "Great American Winemaker" Award." The legendary Robert Parker, Jr. named Baldwin one of his "Wine Heroes of the Year" and "The Star of Paso Robles." I looked up Parker's review of the 2008 Isosceles Reserve barrel tasting, which was similar to the wine I had sampled, and he said, "It exhibits sweeter tannins along with dense black fruits intermixed with charcoal, crème de cassis, roasted herbs and spice box. It is big, thick, juicy, nearly over-the-top, with impressive balance." If you say so, Mr. Parker, but I didn't taste the charcoal.
Baldwin told me that their isosceles is sourced from some of the best vineyards on the west side of Paso Robles with which justin has long standing contracts. Isosceles Reserve is then aged in new French oak barrels for 24 months. A blend of Cabernet Sauvignon, Cab Franc, Merlot, Petit Verdot and Malbec, it is one of America's most sought-after Bordeaux blends and has been served at a State diner in the White House. I was beginning to sense some of the intricacies of producing such a fine wine.
Justin told me that he had recently sold the winery to Lynda and Stewart Resnick, the folks who own FIJI Water, Pom Wonderful, and Paramount Farms. "I decided that they could help carry the wines to a higher, international level with their top marketing expertise, even though we are now sold in 27 countries around the world." We finished our talk and he told me that he lived on the vineyard with his daughter, Morgan. I was intrigued when he told me they were the only winery on California's Central Coast to retain a full-time chef whose kitchen works daily to pair their acclaimed wines with seasonal and vineyard-grown offerings in the Tasting Room. Over 50,000 people a year visit Justin to taste these wines. He invited me to visit and I may take him up on the offer. But in the meantime, I will continue to drink Justin Isosceles and Justification and appreciate a bit more what it takes to make them.

To subscribe to Jay Weston's Restaurant Newnsletter ($70 for twelve monthly issues) email him at jayweston@sbcglobal.net