The Farnsworth House has reopened for some special access post-flood tours. Remember, last month the glass and steel icon of modern architecture suffered great damage. Well, it's been dried out and cleaned up and in fall, with the light streaming through the windows, it looks just great.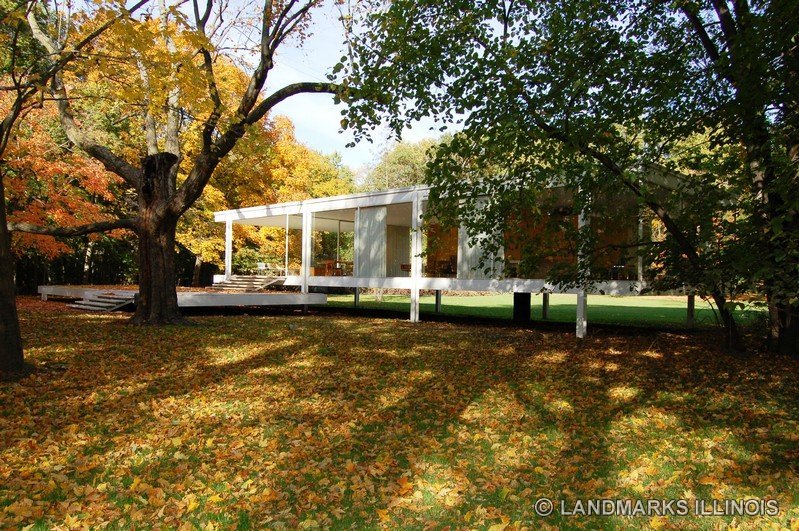 Landmarks Illinois, which cares for the house, tells us:
We finally got some definitive answers from our insurers on Friday. ... We are concerned primarily about two big projects we would like to tackle before the freeze hits. The first project involves removing all of the sealants around the windows below 2 feet, drying out the cavity under the window and replacing the sealants. The second is removal of travertine from the lower and potentially upper deck. We fear that the clogged drains are preventing trapped water from escaping and that a hard freeze could heave and damage the floor surfaces.
Plan your visit now. The $20 to $100 entry fee, depending on how guided your visit is, will go to supporting the restoration.
The house is lovely in the fall, isn't it?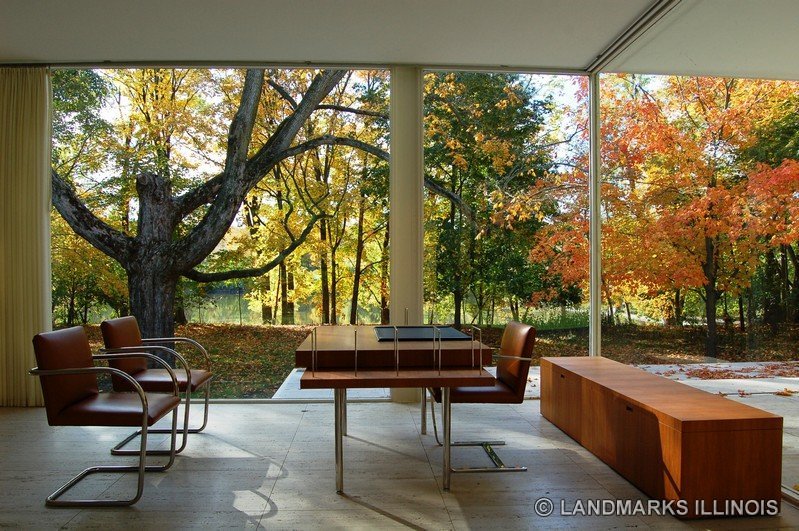 On these autumn days, the light passing through and bouncing off of the red, yellow and golden-colored leaves heightens the white of the steel and of the ceiling and the travertine stone, and gives the house a sheen. But fall reminds us, as does this minimalist house itself, that our time on earth is a passage.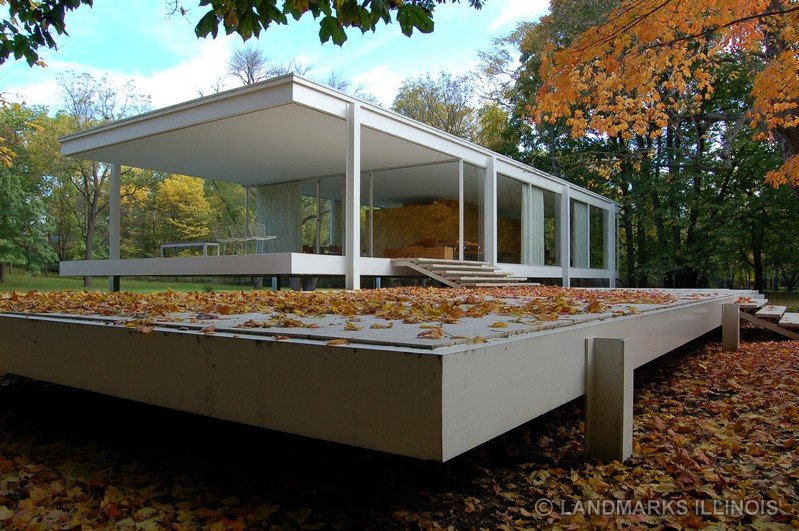 Soon the leaves will all fall and we'll see the branches and the trunks of the trees and when that happens our eye also focuses on the columns holding up the house. Structure is the essence of architecture, good architecture is based on nature, and here it is beautifully abstracted.
Autumn is a good time to see the Farnsworth House. Then see it again after a snow when it lays under a white shroud. Then see it again in the Spring!
Anybody been there recently?
---
Click here for information on the Farnsworth House tours, and for photos of the house flooded.
These three photos by Whitney French, Site Manager for the Farnsworth House operator - Landmarks Illinois. Copyright, Landmarks Illinois.
Edward Lifson blogs at Close to Ecstasy