The most romance-focused weekend of the year starts in a few hours, so why not set the mood with a fantastic candle display? This Craft Of The Day might look difficult, but the hardest part is buying the supplies -- putting it together is a cinch! Keep reading for simple how-to.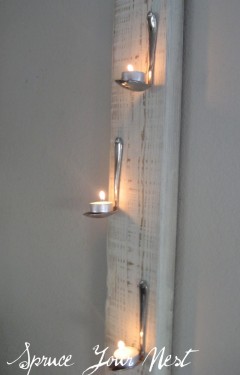 Photo by Brooke Winters of Spruce Your Nest
What You'll Need
Wooden board
Three metal spoons
Three tea lights
Hot glue gun
Paint
Sawtooth hangers (or other mounting hook)
Hammer/nails
How To Make It
1. Paint your wooden board to the desired color and let dry.
2. Flip it over and use a hammer and nails to attach a sawtooth hanger to the top of the backside.
3. Bend your spoons. (Most inexpensive metal spoons will bend with a little effort. If they're not budging, try holding the cup under your foot and pulling up on the handle.)
4. Attach your spoons to the wood with a good amount of hot glue and let the entire thing dry. (Feel free to measure the spoons to an equal length, but eyeballing will work just as well.)
5. Hang it on your wall and add some tea lights. (For safety reasons, you may want to use electric tea lights or hot glue the metal cup to the spoon.) Enjoy!
For more photos and spoon-bending tips, visit Spruce Your Nest. And, be sure to check out the other great crafts in our Craft Of The Day slideshow below.