The inaugural installment of the Philadelphia Peace Games is set to take place this coming Saturday in the City of Brotherly Love and Sisterly Affection. Hosted by Connor Sports and Philadelphia native Wayne Ellington, a new member of the Miami Heat, the gun violence prevention initiative is an example of using sports for education, empowerment, development and peace.
"Gun violence is a global epidemic and it is my hope and intention to develop public education campaigns to help wipe out the threat," Ellington said in a statement released by Tandem Sports and Entertainment.
"My father was taken from us due to senseless gun violence. I will do anything I can to prevent other families from suffering through these tragedies, which are all too common. I was really moved at last year's Peace Games in Chicago and I'm excited to make an impact in my hometown community."
In 2012, Connor Sports assisted with establishing the original Peace Game in Chicago, in partnership with Father Pfleger of St. Sabina, Joakim Noah, Derrick Rose and Isiah Thomas. The athletic flooring company has expanded the Peace Games platform to other cities throughout the United States.
Operating since 1872, more athletic events are played on Connor Sports surfaces than on any other sport flooring in the world. Through a division of Conor Sports, Connor Sports Cares is committed to highlighting and supporting a wide range of programs that strive to positively impact our youth, communities and families throughout the world.
Like in Philadelphia, in many countries Connor Sports does business, the general causes of delinquency are poverty, poor family conditions and low-level of education. Homicide is the fourth leading cause of death in people aged 10-29 years, and 83% of these homicides involve male victims.
Worldwide, some 200,000 homicides occur among youth 10-29 years of age each year, which is 43 percent of the total number of homicides globally each year.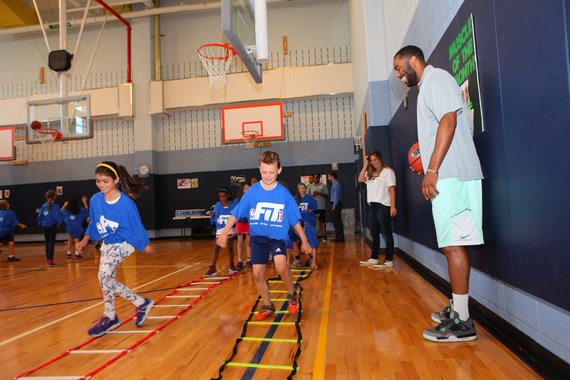 "Games, sports, cultural and entertainment activities, along with community service, play an important role in traditional and non-traditional, conventional and alternative, formal and informal education of youth," stated the United Nations Association of Greater Philadelphia's Executive Director, Dr. Christiaan Morssink.
"As one gains life experiences and continuously learns, an individual's sense of purpose and community, when inclusive and engaging, can be an important source of inspiration to realize possibilities and address challenges. Wayne has a purpose and keen sense of social responsibility which is reflected in the Philadelphia Peace Games," said Morssink.
The UN Alliance of Civilizations states that sports, arts and music are essential elements for development. They lie at the heart of the agency's aim to foster the culture of peace through these collective expressions of human values.
UN Secretary-General Ban Ki-moon agrees.
"This Decade is an opportunity for focused and concerted action. My hope is that a decade from now, the human rights situation of people of African descent worldwide will be vastly improved. I count on all Member States to remain engaged and committed to the Decade at the local, national, regional and international levels."
Understanding the personal, devastating impact of gun violence and the humanitarian crisis implications gun violence has on impoverished people and communities, the Philadelphia Peace Games is a solution for some. As part of Ellington's "Power of W.E." Initiative - a campaign focused on the reduction of youth violence in Greater Philadelphia communities - through partnerships with existing gun violence prevention organizations and the City of Philadelphia, Ellington is honoring his father by uniting victims and promoting change on the local, national and global levels.
"Connor Sports is so honored to be involved with Wayne in this very important event in Philadelphia," said Lauren Gillian, Director of Marketing for Connor Sports.
"We are moved to work with Wayne to spread his powerful and deeply personal mission as part of our Champions of Community initiative. The impact in his hometown community will be huge and we're looking forward to continuing to partner for years to come."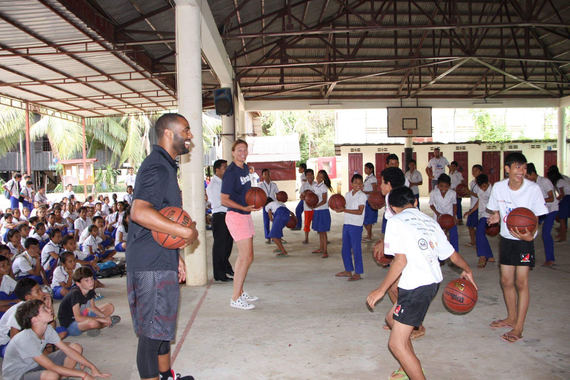 The NBA's 2015-16 J. Walter Kennedy Citizenship Award winner, Ellington received it for his outstanding service and dedication to the community. Before the 2015-16 regular season began, Ellington helped run the Chicago Peace League Basketball Tournament in an attempt to limit the amount of gang violence plaguing the city.
No stranger to utilizing sport for peace and good -- and not only inspired by the lost of his father -- Ellington's boundless efforts led him to participate in the Seeds of Peace International Camp during the summer of 2009. Working with Israeli, Palestinian, Egyptian, Jordanian and American youth, to teach and encourage leadership and conflict resolution skills development, he was motivated by his experiences to be a vessel for transformative change.
Last year he collaborated with Peace Day Philly, Heeding God's Call and UNA-GP, marching with students from Parkway Northwest High School for Peace and Social Justice to commemorate International Day of Peace.
"He was really great last year," said Parker who co-founded Peace Day Philly. "It was his first time discussing his father's fate, due to gun violence, publicly. He and the students became comfortable communicating as time passed. It's great for Peace Day Philly to have the opportunity to contribute to the first Philadelphia Peace Games. We truly appreciate what Wayne does selflessly for the benefit of others."
Ellington has stayed productively busy this summer. In June, he presented the 22nd Annual All City Classic in Philly, participated in an NBA CARES FIT clinic in NYC before teaming up with the U.S. State Department's first ever NBA-WNBA Sports Envoy Program in Cambodia last month.
The U.S. Embassy in Phnom Penh coordinated the itinerary with the Ministry of Education, Youth and Sports, the National Olympic Committee of Cambodia, the Cambodia Basketball Federation, and the Fulbright and Undergraduate State Alumni Association of Cambodia. He came back stateside to a new team, the Miami Heat, and the second installment of the Make It Wayne Tournament in Pottstown, Pennsylvania.
"Clearly Wayne has benefited from a solid family upbringing, tremendous experiences as a top performing student-athlete at one of the nation's top prep schools and universities, and distinguished himself as a consummate professional during his time in the National Basketball Association," Morssink affirmed.
"He displays all of the characteristics of a leader and conveyor of the Olympic movement, its spirit and ideas. As the only United Nations Association chapter with an active Sport for Development and Peace initiative, we are excited to support the Philadelphia Peace Games. On the heals of World Humanitarian Day [August 19], we celebrate the spirit of Wayne's and Connor Sports' humanitarianism and their ability to mobilize people to advocate for a more humane world through activities aimed to reduce gun violence."
"With his Think global, Act local perspective, I look forward to exploring how we will collaborate to utilize resources of the International Sport for Development and Peace Association, International Platform on Sport & Development, Peace & Sport, as well as locally with partners like the Global Philadelphia Association and the World Heritage City," Morssink concluded
Ellington and Connor Sports anticipate hosting 400 guests during the five-hour Philly Peace Games experience.
"Connecting with the youth and making sure they understand that the violence we see on TV and in the movies isn't cool, and that there are better ways to work out issues is important to me," Ellington told the Chestnut Hill Local a year ago.
"I want to help them see from an early age that peace is important and each one of them can make a difference in helping their community."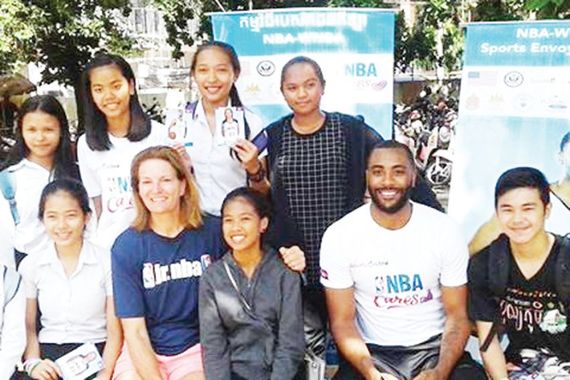 Photo 1: Miami Heat's newest addition, Wayne Ellington, participating in an NBA Cares event in NYC. Submitted photo.
Photo 2: Philadelphia native Wayne Ellington engaging youth during the U.S. State Department's first ever NBA-WNBA Sports Envoy Program in Cambodia. Submitted photo.
Photo 3: WNBA Hall of Famer Sue Wicks (fourth left) and Wayne Ellington (second right) were in Cambodia to promote basketball and inspire the Kingdom's youth. Submitted photo.